As Zimbabweans, we are blessed with a strong sense of community, a nurtured resilience and a natural hopefulness that will carry us through this.
Along with the whole of mankind, these past couple of months have not been "business as usual" for us. Though we are fortunate to be isolated from the worst of the troubles. Still, it is a very strange and disconcerting time for us. We have not welcomed guests for almost three months now, well, not human ones at least – the elephants, warthogs and bushbuck make their usual visits to camp. Many of us are home with our families in our communities, and a core team remain on Matetsi Private Game Reserve.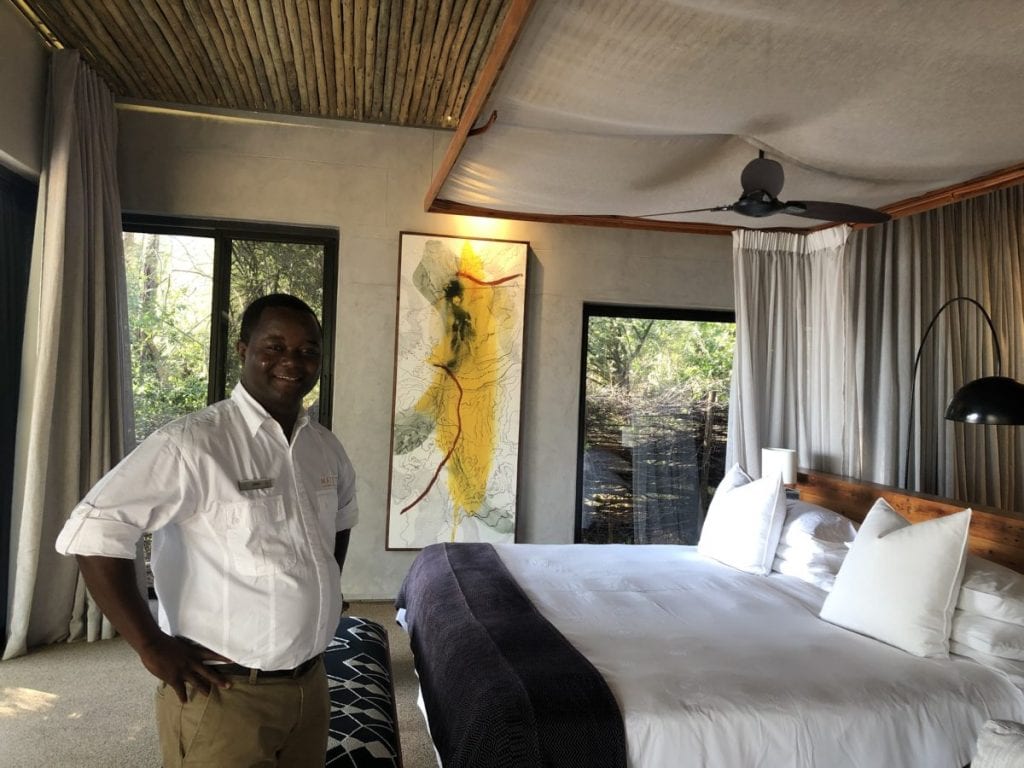 For those of us on property, many of our roles have changed as our priorities shifted. Housekeepers still tend to the rooms and butlers to guest areas, but mostly to keep any critters and cobwebs at bay, no romantic turndowns or guest delights. Our Exec Chef Shane and Head Chef Artwell, lead their team not to the kitchen, but to the garden, which they are now rebuilding after elephants left their stamp of approval on it. Camp manager Leanne has catalogued the library and now holds the title of Chief Librarian.
Our conservation team's work is never ending, maintaining roads and repairing boreholes and communication networks. Our guests may not be sitting at waterholes watching huge herds of buffalo drinking there, but the wildlife still need to drink. And our guides, they have always been wildlife guardians, traversing the vast wilderness day in and day out. Usually they would have guests in their vehicles, and guest safety would be their top priority. Now their focus is on maintaining the positive human presence, negating any chance of poaching or security threat on the property. It might not be "business as usual", but it's necessary busyness.
In the moments between the busyness, some of us have been fortunate to find Time. Time to breathe, time to rest, time to restore and for some, time to create. Many have spent more time with old friends – even if virtually. Some have read or listened to more books than they usually would. A few have even considered writing their own books – we all have a story after all. And a couple have taken time to brush up on what a Haiku is (a short form of Japanese poetry in three phrases, 5,7,5 syllables & traditionally about nature).
"While You Are Gone"

While you are gone,

We'll keep an eye on her.

Until you come Home.
We can't wait to welcome our guests back to Matetsi Victoria Falls. To give you the freedom of time and space to relax on the banks of the Zambezi River. To surprise you with culinary creations. To treat you to magical moments. And to explore our expansive wilderness with you. Until then, we are drawing strength from our local and international communities, tapping into our resilient natures, and remaining hopeful in the knowledge that "This too shall pass."
Stay Strong. Stay Safe.
Sending so much love from our Home to yours.
The Matetsi Victoria Falls Family

To stay connected and keep up to date on what's happening on property, follow us on Facebook and/or Instagram. And check out our Wildlife Sightings Page to see who's been visiting recently.