The dry season is a very difficult time for African elephants. Unlike summer there is not much to feed on. As such, elephants are forced to travel long distances in search for food. They are forced out of their comfort zone and venture into some islands that are partially waterlogged and offer some green vegetation that the elephants can feed on. Unfortunately, some of these islands have their own threats particularly for these big giants as poachers try to take advantage of these unguarded areas.
As part of our ongoing conservation work, last week we swept one island in particular which is favored by elephants on the upper Zambezi. The idea was to remove snares, nets and anything that polluted or is a threat to the precious ecosystem like plastic. The island stretches for a couple of kilometers in front of the lodges, reception area and part of the staff quarters.
After gathering all the equipment needed for our excursion on the island, we drove to the launching site. Amongst the crew were Zimbabwe National Parks rangers and Matetsi Victoria Falls staff members (guides, chefs and housekeepers).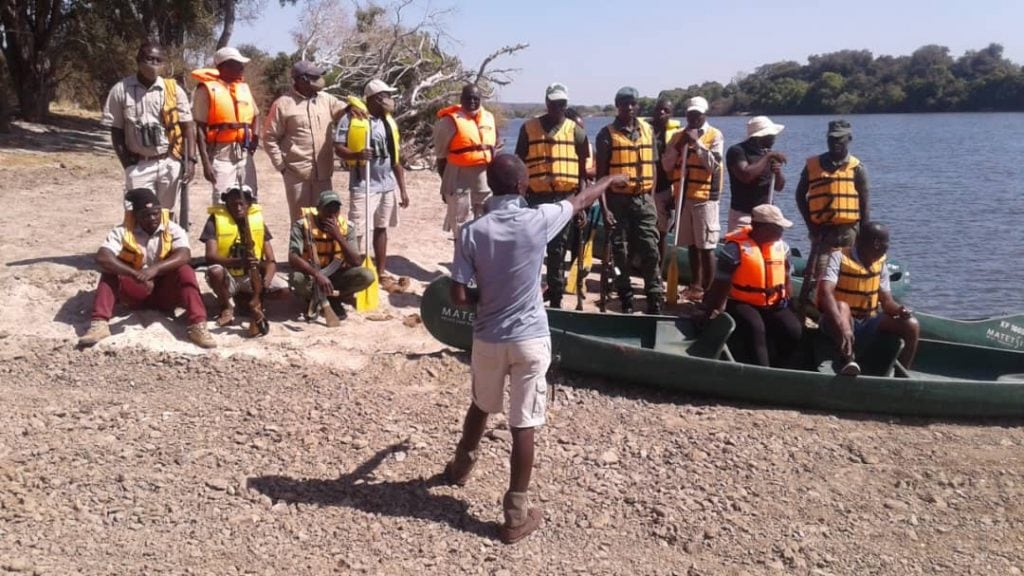 A deep and comprehensive briefing was led by Ophious Sibanda (Senior guide) and the Parks and Wildlife rangers before we could set off towards the island. The water was calm as we canoed across the Zambezi river. This time the Parks and wildlife officers led the excursion as we were heading towards a potentially dangerous area.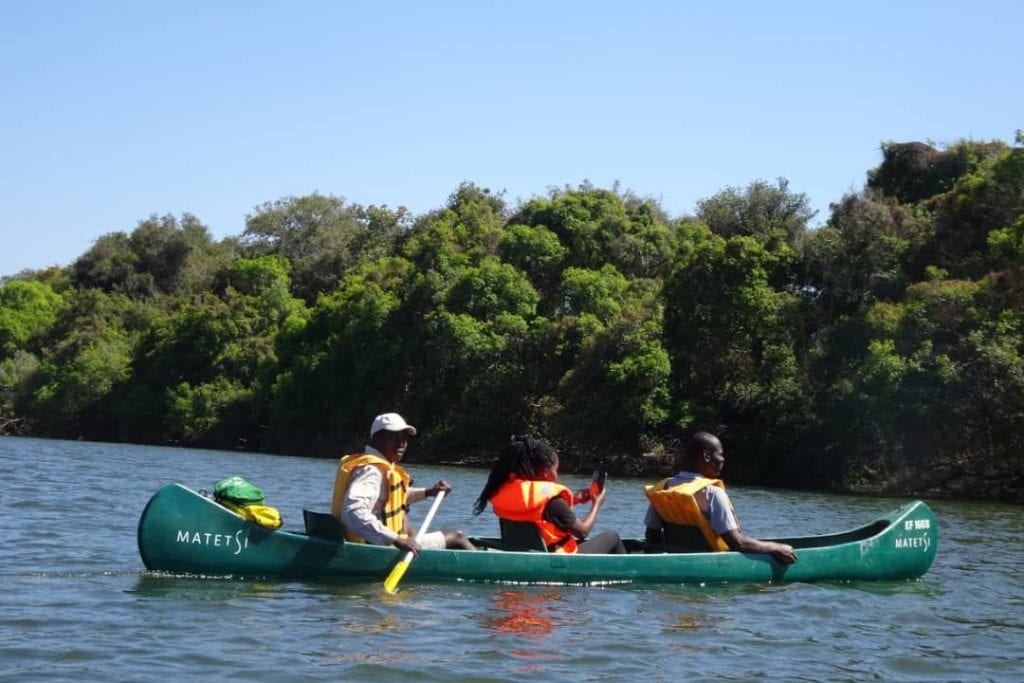 Upon arrival we were welcomed by the stench of elephant bulls that had been feeding during the night and early morning. The island was full of life and activities from hippos and elephants evident from broken branches, tracks and dung. We started our excursion from the eastern edge of the island going towards the west.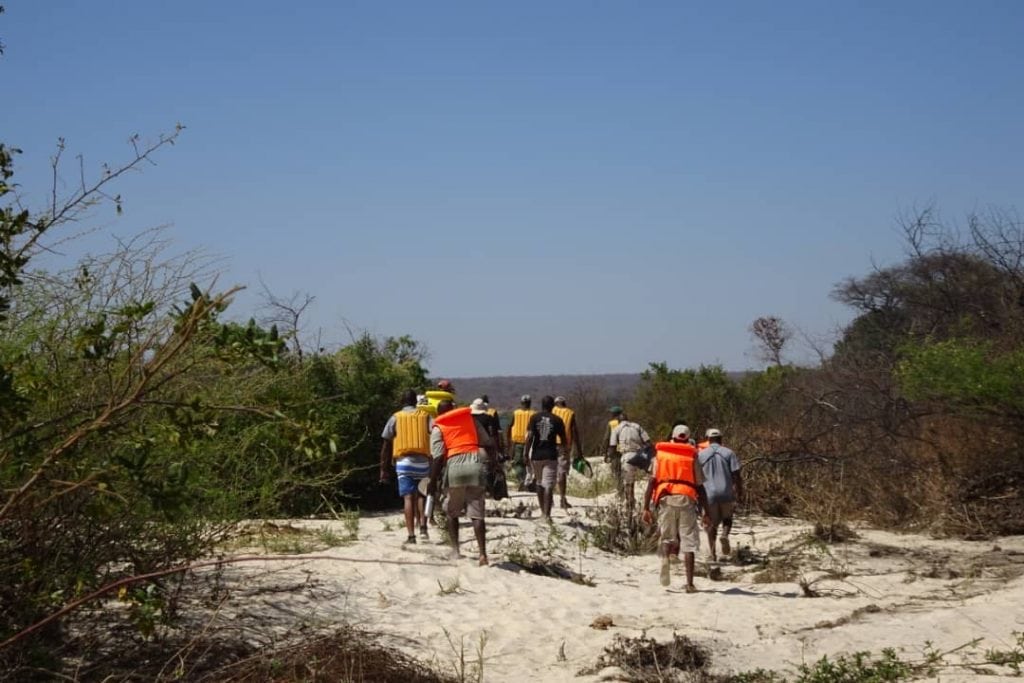 The island was littered with plastic bottles, rusted crockery, utensils, buckets, nets amongst other unwanted manmade fabrics. We removed wire snares, twine snares and the litter that polluted the precious ecosystem and put them into refuse bags. Most of the snares and nets target elephants, hippos, birds especially guinea fowls, fish and various rodents. Sadly, the snares and litter are some of the disturbing evidence of the conflict in land use between us and our neighbours from across the river. It's a paradox that our trip was successful despite the morbid discovery of elephant bones, old ashes and extinguished firewood particularly on one carcass which we suspect could have been a victim of unwanted human activities there.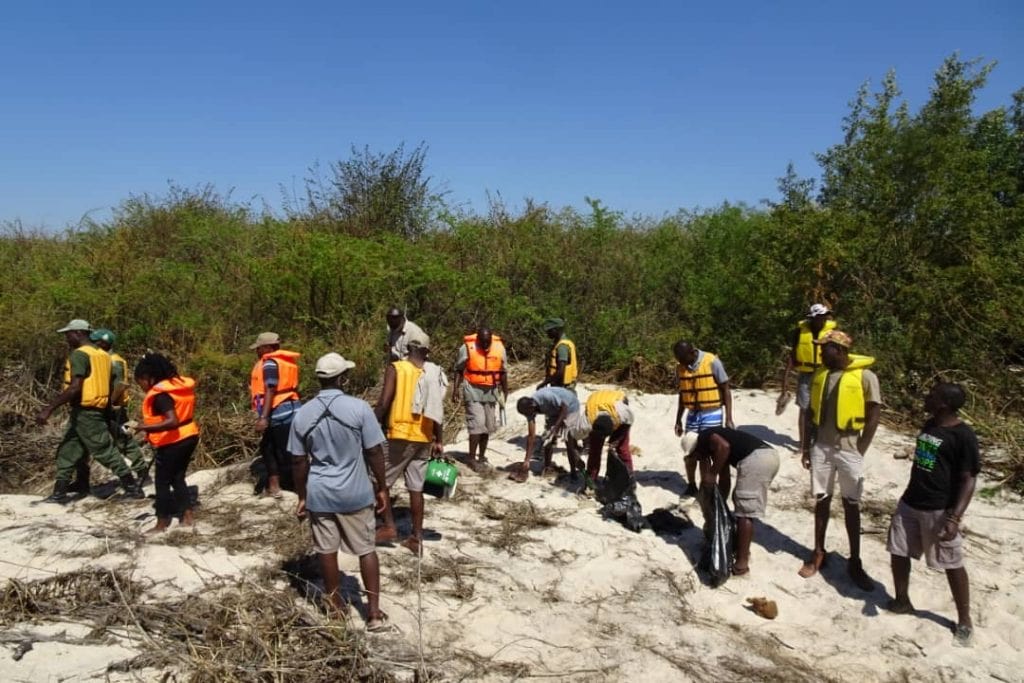 The excursion was exhausting but adventurous and fun. As fatigue took its toll some of the guides couldn't resist the temptation of diving into one fast flowing narrow channel in the island. The beautiful beach sand on the island got people excited and creative. I remember seeing some guides flying, diving and doing all sorts of funny acrobatics stereotypical of "back benchers". We all headed back to the mainland, arriving safe and sound with our collection from the island.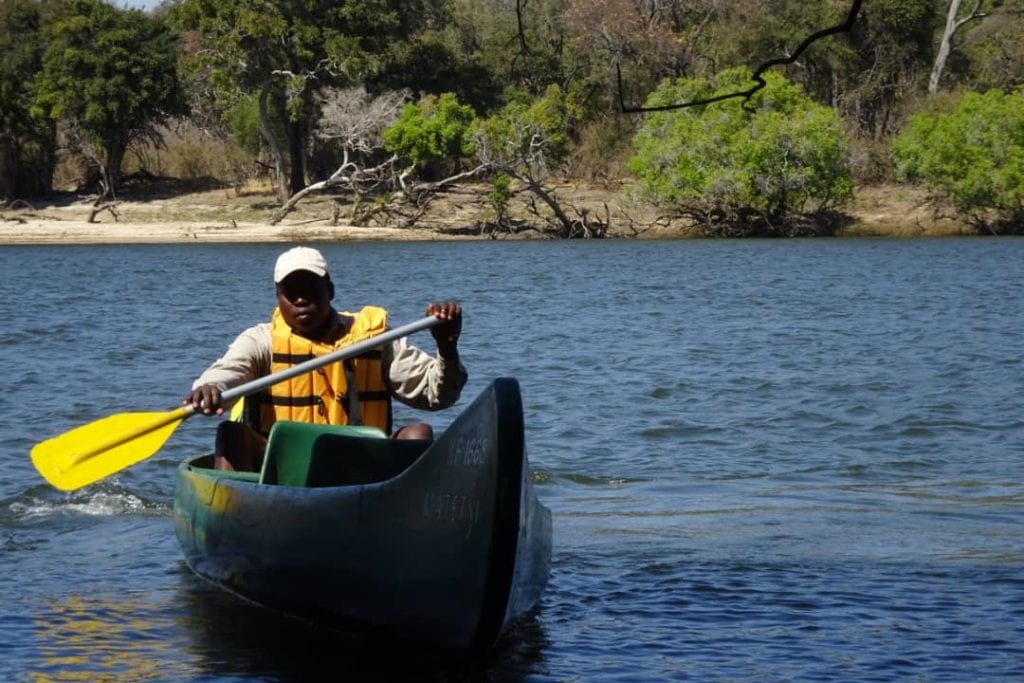 Hunger, dehydration and fatigue stood no chance against a determined, united and focused team. We loaded our canoes on the truck and headed back to camp for some delicious late lunch. 
Continued regular activities are planned, including island clean-ups, snare sweeps and patrols, to ensure this natural wilderness is kept pristine. In addition to this it's imperative that we create more awareness in our communities with regards to conserving natural ecosystems for the benefit of wildlife, their habitats and future generations.
Words and images by Crawford Moyo. Video by Tinashe Sithole.
Message of appreciation to the team from Ophious Sibanda (Senior guide):
"I would like to appreciate the team that gave their time to search the island. It was such a wonderful experience to all of us. For those who did not make it today, l say worry not, as these is the starting point of it, we will keep on doing some good for our island and inland. Hats off to Travolta and Atwell for releasing your team members that became key players in this exercise. To guides, you guys are just awesome, let's keep the fire burning.
Matetsi Victoria Falls will always in need of people like the following: Collen (chef), Maggy (chef), Shupi (chef), Tinashe (tour guide), Decent (guide), Mike spinach (guide), Crawford (guide), Lance dwidwi (guide), Brian (guide), Chasi (guide), Jonathan (guide), Praise mangoose (guide), Trymore (guide), Thabo (guide), Clever (guide). Selwin l appreciate your effort next time that plan will work. Thanks to the ZNP game rangers for keeping us safe: Terrence Moyo, Taurai Muleya, Liberty Ndebele, Godwin Sibanda.
Great team work indeed, guys let's keep it up."