In the dry season, a good availability of water, from 16 solar-powered boreholes and 15 km of the mighty Zambezi River, means that that 55,000-hectare wilderness that is Matetsi Private Game Reserve is an oasis for wildlife.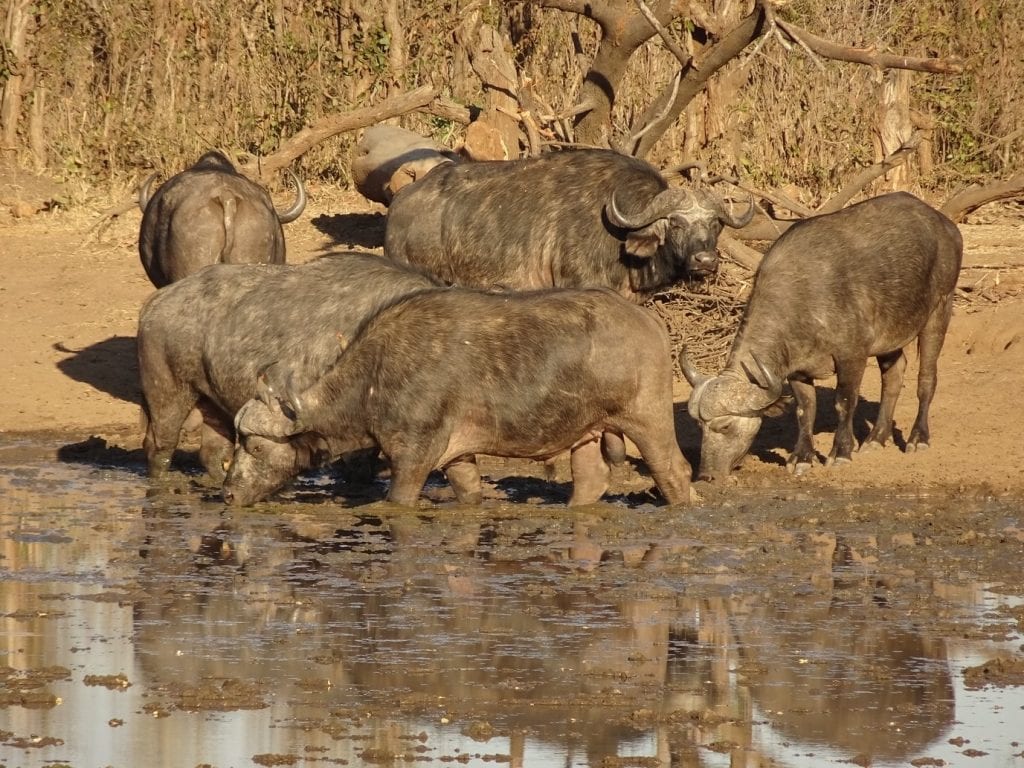 August saw the number of large herds of elephants increasing, with 100+ elephants seen at a waterhole at a time, with December Pan being a particular favourite for the elephants throughout the day. Even from the lodge, there were several sightings of elephants swimming in the Zambezi River, and moving across to small islands to feed on the lush vegetation found there. Guests have enjoyed time with relaxed breeding herds of elephant – with many fond recollections of baby elephants trying to figure out how to use their trunks, and one gushing story of 2-month-old twin elephants who seemed to still be finding their feet.
Three different large herds of buffalo moved throughout Matetsi Private Game Reserve and up to the Zambezi River. Also, five dugga bull (older male) buffalos are finding sanctuary near the lodge (little do they know that the lions took out 3 of their relatives in the same area in March/April).
Speaking of predators, lion were seen almost every day in early August. With a large pride of 11 lion moving in the north of the property and a couple of pairs moving within the southern vlei system – notably 2 males claimed the southern section of Westwood vlei as theirs for a time, vocalising a lot. Sightings were still regular, if less frequent, later in the month. Though it's clear that (for now) the pride of 11 have claimed the areas around Sable Pan and Robinson Pan in the north. Our trackers have picked up tracks of another large pride of 8+, in the southern section of the property.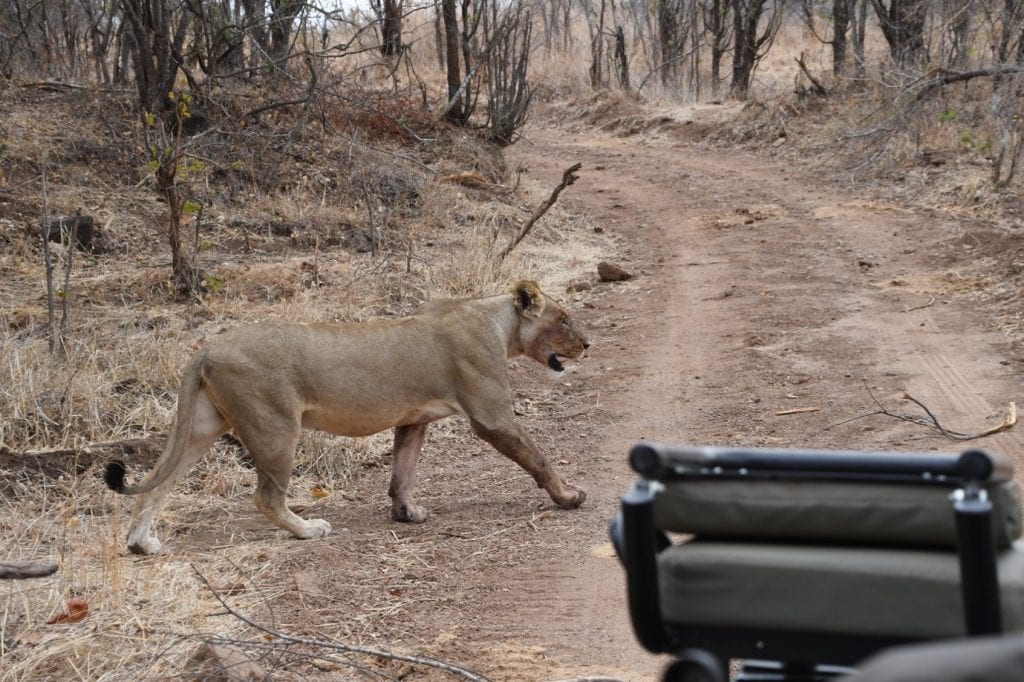 Sightings of hyena have been frequent both in the north and the south, and there have been some great leopard sightings, one just a couple of minutes from the lodge, and another one close to the staff village.
Zebras, wildebeest and black-backed jackal are essentially resident on Westwood vlei, and ground hornbill were often sighted there and across the property. Herd of sable have also been sighted around Mabooza Vlei in the south.
The bush has really thinned out with the dry season, giving us an opportunity to see some of the species that remain well hidden in the green season, including photogenic duiker and our smallest antelope, the Sharpe's Greysbok, as well as Klipspringer on the north eastern side of the property.
Giraffe, impala, kudu, bushbuck, baboon, Vervet monkey, banded mongoose, slender mongoose and warthog sightings are so common place year round that they are generally not noted. Though guests have frequently remarked on the very healthy populations of all these species. Along the river, crocodiles and hippos make their regular appearances. As the water levels vary, the hippos move to different parts of the river. Most recently they have been inhabiting an area near the jetty site.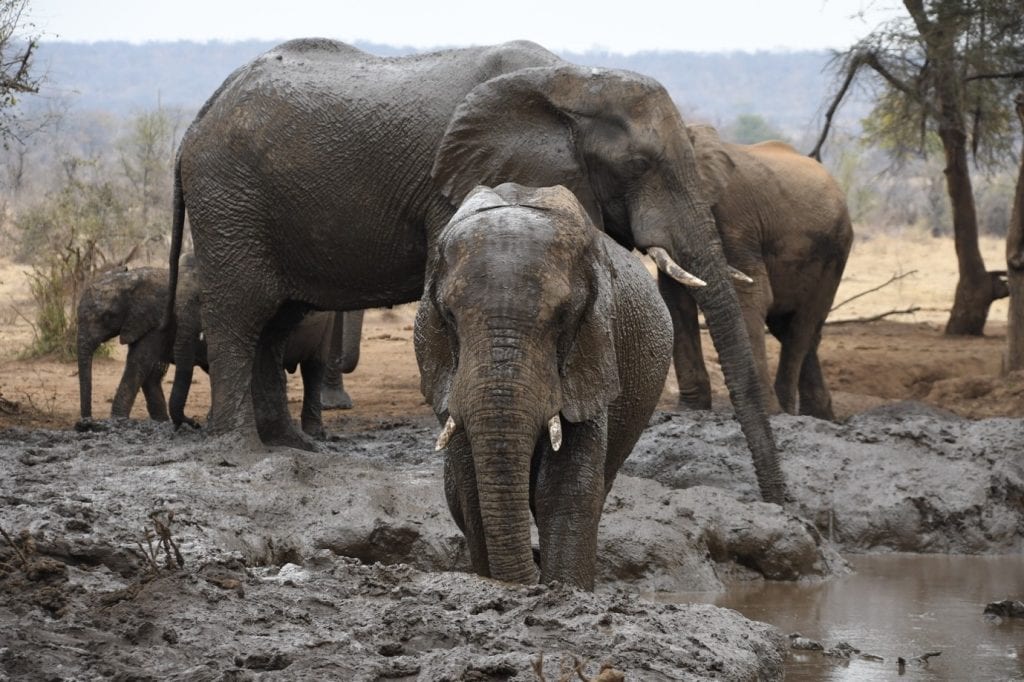 Interesting Sightings
As the concession is private, we can do night drives, and this opens up a whole new world. A number of serval sightings reported this month – guide Simba caught one rather photogenic serval on camera. Other nocturnal species, e.g. bushbabies and hyena have often been sighted on night drives throughout August, and African wildcat and honeybadger have been sighted from time to time.
Another nocturnal critter, the white-tailed mongoose seems to be resident near our bush dinner location and has taken to making a guest appearance during these special dinners.
Senior Guide, Ophious, who is passionate about birding, was excited to report a Secretary bird sighting on vlei north. And he saw 4 kori bustards with guests in the southern section of Westwood vlei, along with cheetah tracks, and a daylight sighting of a honeybadger, at the end of August.
Ophious also reported 2 bat-eared foxes sighted on a walking safari earlier in the month.
Two (non-guiding) team members spotted 2 martial eagles (just a couple of minutes from the lodge) as one swooped down and caught an African scrub hare (ID not confirmed).
A Savannah Monitor was seen basking in the sunshine along the main access road. We see Water Monitors relatively frequently by the lodge, but this is a different species. They hibernate through winter, camouflage very well into the golden colours of the dry season and can easily take cover in the green season. Some guides in Africa go years without seeing one, and one of our (non-guiding) team who was at this sighting had never seen this species, so needless to say, we were very excited.
Another interesting sighting was in and around the lodge, as Jono Hudson has joined the Matetsi Victoria Falls team as Deputy General Manager. Fortunately, Jono is at ease in the bush, and remained calm and collected even when a resident elephant looked like he might want to join guests for lunch.
Finally, the yellow-billed kites have just returned. For those of us that call the bush "Home", the changes in nature are our calendar. So yes, it's that time of the year again. We have officially said good-bye to winter, and although even in late August, the mornings were cool (16*C), the daytime temperatures were reaching highs of +30*C.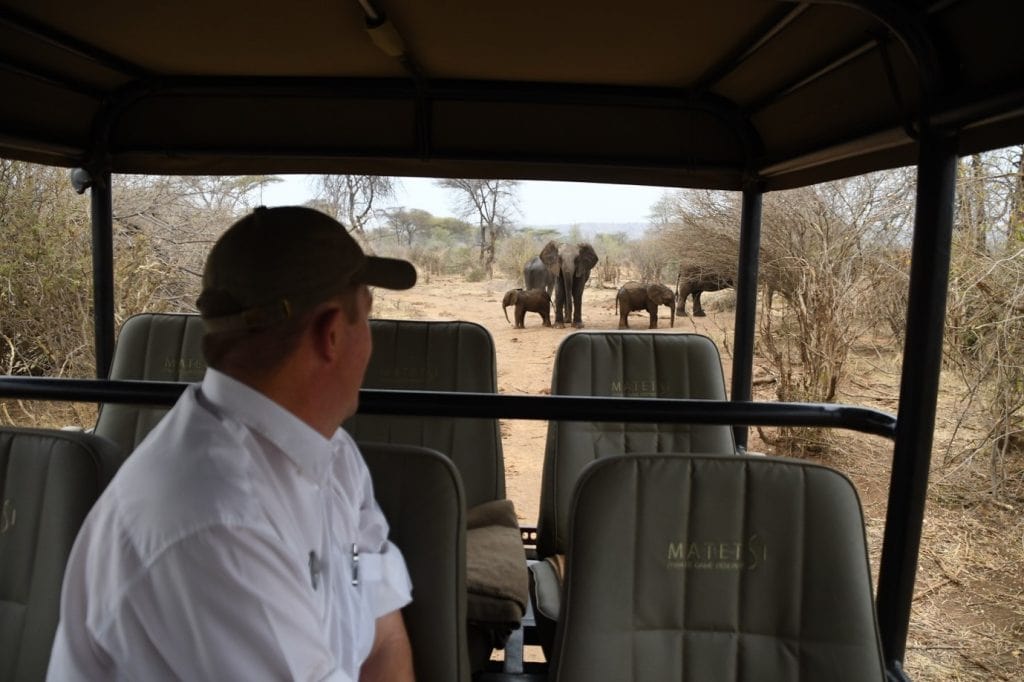 A sneak peek into September 2019
The month started, as it usually does, on 01 Sept, but, slightly more unusually, with a lioness hunting a bushbuck near the boma area on the western side of the lodge at 5am… We can't wait to see what nature has in store for us in September 2019…
Note: Accompanying photos are a selection of images from August 2019. Thank You to Ophius, Simba, Crawford and Selwin for their contributions this month.