It is hard to believe that almost a month ago (whilst writing this on 7 January 2021) to the day I was boarding a flight from my home city Cape Town to Johannesburg to start this trip of a lifetime. It is now a New Year with new challenges, so I am hoping that recounting and sharing this immensely fulfilling African safari experience will provide some inspiration and solace for those considering visiting in the not-too-distant future.
How It All Began
First let me take you back… Steve and Nicky Fitzgerald who headed up Conservation Corporation Africa (CCA) before it became andBeyond, had a 10-year dream to build Angama Mara – an incredible lodge in Kenya balanced on the rim of Africa's Great Rift Valley. This dream was realised in 2015 when the lodge opened its doors but more importantly its heart to the world.
This background is relevant because two of the over 50 lodges that Steve and Nicky created during their time with CCA were Matetsi Water Lodge and Matetsi Safari Camp on Matetsi Private Game Reserve, the former of which now forms the foundations of Matetsi Victoria Falls. Steve and Nicky were also instrumental in the conversion of the private concession from hunting to photographic safaris (though that is another story for another time).
It was due to this connection that Sara, Co-founder of Matetsi Victoria Falls, and I with the encouragement and introduction from one of our very loyal clients, Dionne Bunyard of African Pathfinder, came to have a call with Nicky and her lovely daughter Kate Boyd in May 2020 to discuss a combination itinerary between Angama Mara and Matetsi Victoria Falls. It was during this call and subsequent discussions that Nicky shared with us just how special and close to their hearts Matetsi was and still is as it was one of Steve's most special places. Steve sadly passed away in 2017.
With two families, the Gardiner's and the Fitzgerald's, having a shared passion and vision for conserving these special wilderness areas in Africa and offering an excellent guest experience, it was a match made in heaven. And so Waterfalls and Wildlife came to be (thanks Kate for that wonderful name): a 7-night itinerary offering a taste (no pun intended – though both properties strive for an exceptional culinary experience) of both East and Southern Africa.
The Trip of a Lifetime during a Pandemic
The Waterfalls and Wildlife itinerary includes 3 nights at Angama Mara, 1 night in Nairobi and 3 nights at Matetsi Victoria Falls (or vice-versa). To describe this trip as a dream is a massive understatement. It was certainly a dream come true for Sara and me to be able to experience it. In October when we started to talk about potentially experiencing the itinerary ourselves, neither of us had ever been to East Africa, there was so much excitement. Due to travel restrictions, we were unsure as to whether it would be possible in 2020 but against the odds, we made it happen and the dream was realised. At the invitation of Nicky and Kate, we extended our trip to be four nights at Angama, we also did four nights in Nairobi, and then I enjoyed five nights at Matetsi Victoria Falls – catching up with the team who I hadn't seen in person for over ten months.
Traveling during a pandemic has its challenges, yes, however where there is a will there is a way and we found our experience to be a seamless one. I would be flying from Cape Town via Johannesburg to Nairobi and Sara from Victoria Falls (her home town) via Harare to Nairobi. First port of call was to have our COVID-19 tests within the stipulated 96 hours prior to arrival in Kenya. Sara lived and documented the experience as if she was a Matetsi guest. We are very fortunate to have an extremely safe and full proof system in Victoria Falls with Lancet laboratories who come out to the lodge and do the test in the privacy of our guest's suite.
With COVID-19 negative test results in hand we set off for the trip of a lifetime. We both packed an extra dose of patience and bottles of sanitiser, the former came in handy when filling out tracking forms, the latter weren't really needed as copious amounts of sanitiser were supplied throughout our journey. We were both impressed with the evident hygiene standards in place throughout airports and in airplanes, as well as with the professionalism of ground staff and cabin crew.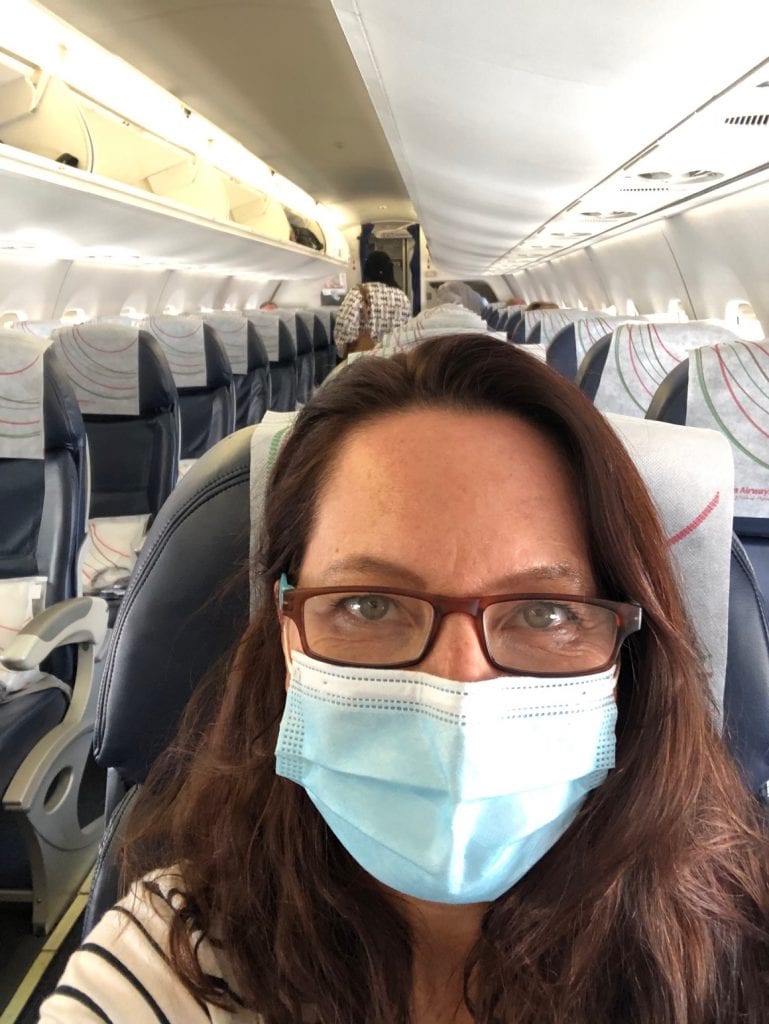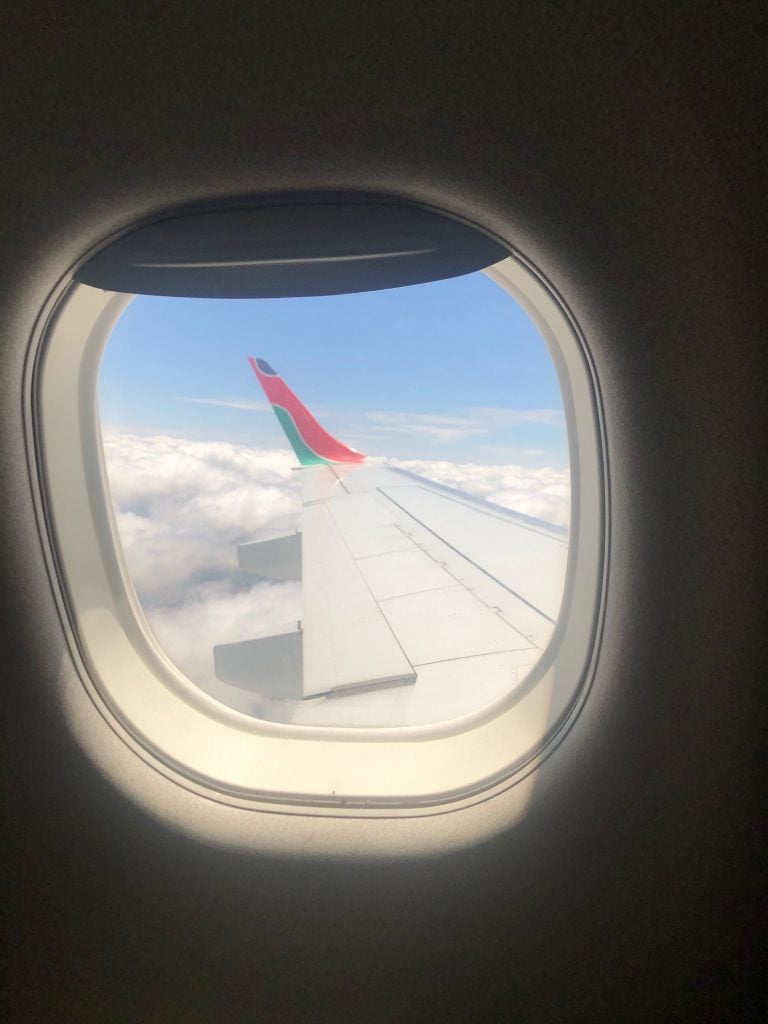 Exploring one of East Africa's treasures
On arrival in Nairobi, we had arranged the "VIP" meet and greet through Angama Safaris as this is what our guests booking this itinerary will be experiencing. It is worth every penny to book this as there is someone waiting for you as you step off the plane and they whisk you through immigration. Of course, the negative COVID test and the locator QR code that we had to generate for our arrival were immediately checked. It took a maximum of 30 mins from the time I stepped off the plane to picking up my luggage and getting out to the transfer vehicle.
It was a happy reunion with Sara having not seen each other for 10 months, so much to catch up on, despite our many Teams calls throughout that time. That first evening we stayed at a new property in Nairobi, The Social House (insert link) which was extremely comfortable with all the modern comforts one needs. We had a great night sleep ready for our early pickup with much excitement about our flight in the Maasai Mara.
Alex, our wonderful Angama Safaris guide was there to collect us at 8am after a quick breakfast. It's hard to miss the Angama team with their bright red shirts and warm and welcoming smiles. We could hardly believe that the moment had finally arrived, soon we would be flying over those wide-open plains for four nights of sheer bliss at this Condé Nast Traveler Gold List property – Angama Mara. It was certainly a warm "karibu" which means welcome in Swahili, to Kenya.
Next stop was Wilson airport, a smaller airport than Jomo Kenyatta International Airport, where you will find all the charter companies that do the "hops" into the Mara. We were booked on Safarilink . Alex was with us every step of the way, which made the whole check-in process seamless. Once everyone was checked-in and loaded they called the flight, so it landed up being an earlier departure which is always a welcome surprise.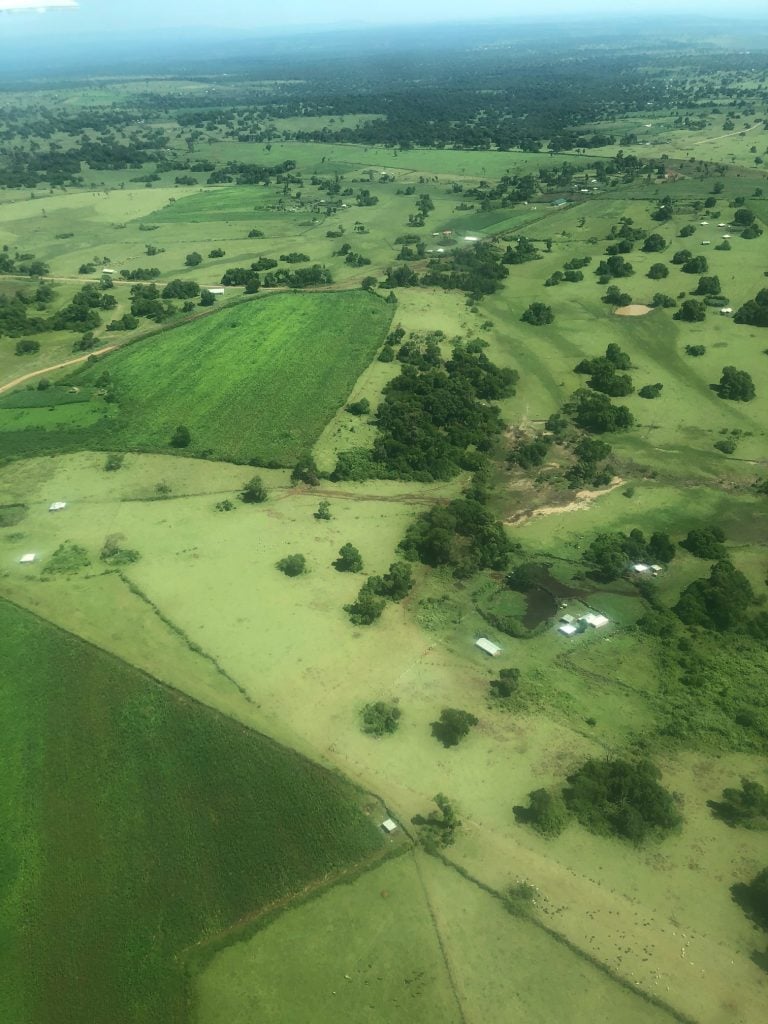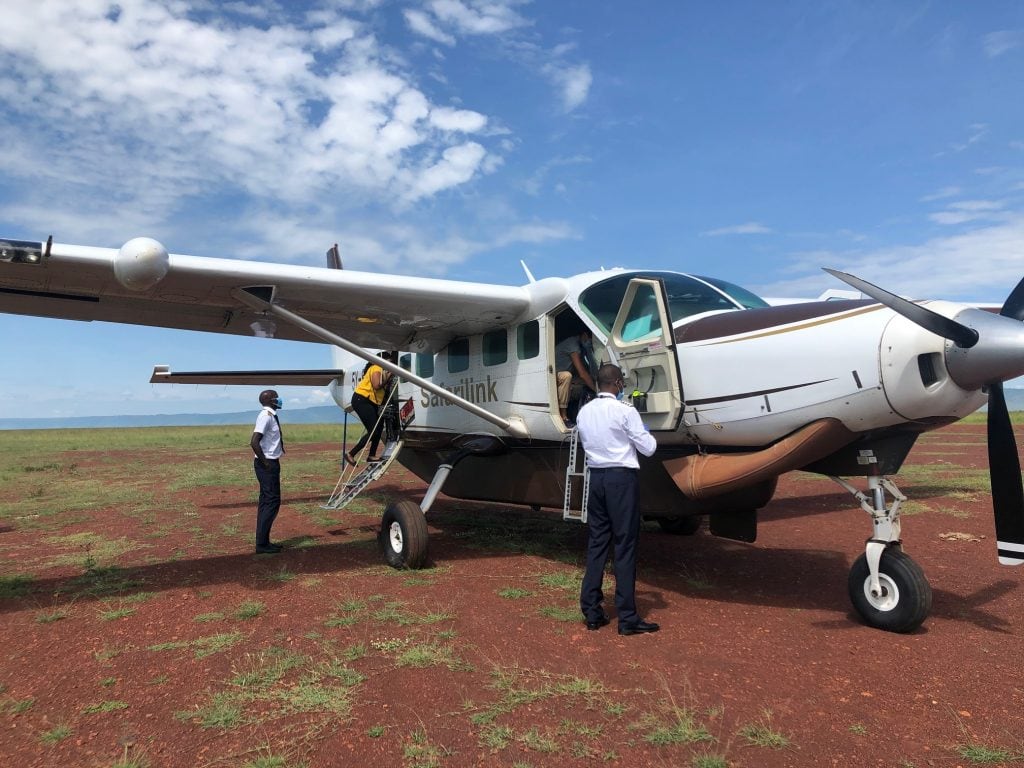 We were on a small Cessna aircraft that seated a maximum of 12 pax. There were two quick stops at other air strips in the Mara. One highlight of our flight was meeting a wonderful solo lady traveller from Nebraska, USA – Cristal. We so enjoyed chatting with Cristal and found it so encouraging to hear about her lengthy African safari itinerary and her courage to travel solo during these times. She was absolutely loving her trip, having been in Rwanda prior to do gorilla trekking. Of course, the main highlight was flying over the vast expanse that is the Maasai Mara, it was honestly like a dream.
Finally, the moment we had been waiting for arrived, touch down on the Angama airstrip. This was our first meeting with our guide Kenneth or Ken for short, who would be looking after us throughout our stay. We arrived at Angama Mara to an extremely warm welcoming committee, including Nicky Fitzgerald, the Owner and Founder and her wonderful daughter Kate Boyd who is an integral part of the team and takes care of Sales and Marketing. It was so wonderful to meet them after all our months of corresponding. There were also many members of the Operations team who keep all the cogs in the big wheel that is Angama turning including Shannon, their Regional Director and Josaphat one of their incredible Camp Managers.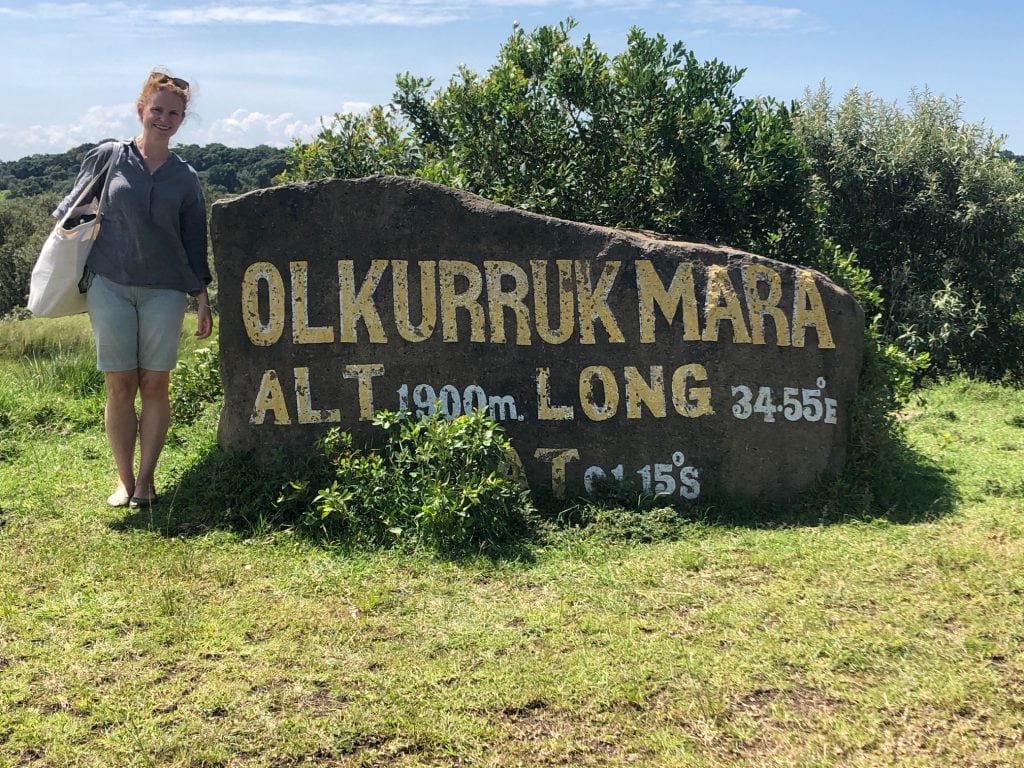 Walking into the main guest area at Angama North Camp was like a dream. Nothing can really prepare you for that view. It is like an ocean of green that has no end. It literally brought tears to both mine and Sara's eyes as I'm sure it does to many visitors to this special place. It was now understandable where the name comes from, Angama means "suspended in mid-air" in Swahili. Fun fact: Mara means spotted and this talks to the many small bushes that literally appear like spots across the vast open Mara plains.
We had arrived just in time for lunch and were seated on the deck area with that view outstretched before us. Just the lizards and the rock hyrax's as our companions. Angama Mara has an exceptional food concept that Nicky has provided most of the inspiration for. Let's say this, we certainly would not be going hungry over the next four days. And this is also where we met our wonderful butler who would be taking care of us, Farida. Yet again, the warmest personality who we so enjoyed interacting with at each and every meal. Our cups had started to fill up and it was only day one.
The spacious tented suites at Angama Mara are exquisite and were designed entirely with their guests' comfort in mind. The full glass façade with no blinds or curtains, makes for an uninterrupted view which is just a continuation of the one described above from the main guest area. At night from the comfort of your bed, you can witness the full extent of the milky way and both Sara and I witnessed a shooting star on separate occasions. The main suite leads out onto wooden decks overhanging the Mara where one literally feels like you are on the edge of the world. The overall attention to detail from the Victorian style bath behind a woven screen, to a private WC and shower with Africology amenities and a private butler's lobby for our early morning tea delivery, are just a few of the guest delights that one can find here.
Having unpacked and settled into the extreme comfort of our suite, it was time to set out on our first East African safari adventure. Ken, was waiting for us and we soon realised that he could not have been a better fit for Sara and I. Sara being the keen twitcher that she is was armed with her East African bird app and I took responsibility for our list of mammals (more on this before the end 😉).
With the location at the top of the escarpment, one heads down to reach the Mara triangle (follow this link to learn more about the Mara Triangle and how it links to the greater Maasai Mara National Reserve, also this blog post from Angama Mara provides insights into their ongoing conservation efforts), on the way down one goes through quite a forested area with a water system running through it too, so our first animal spot here, among the many species of birds, were hippos.
Heading through the national parks gate there was much excitement as to what was waiting for us below. Ken had heard of a lion sighting, so we headed in that direction. There they were, a male and female in the long grass, extremely chilled although they did a bit of moving around for us. We sat watching them for some time, aware of a thick bank of dark clouds moving in overhead. Suddenly, the heavens opened with a massive down pour. Never fear when Ken is near, ponchos went on and we sat and enjoyed the atmosphere whilst watching these incredible cats in their natural environment – what a way to start!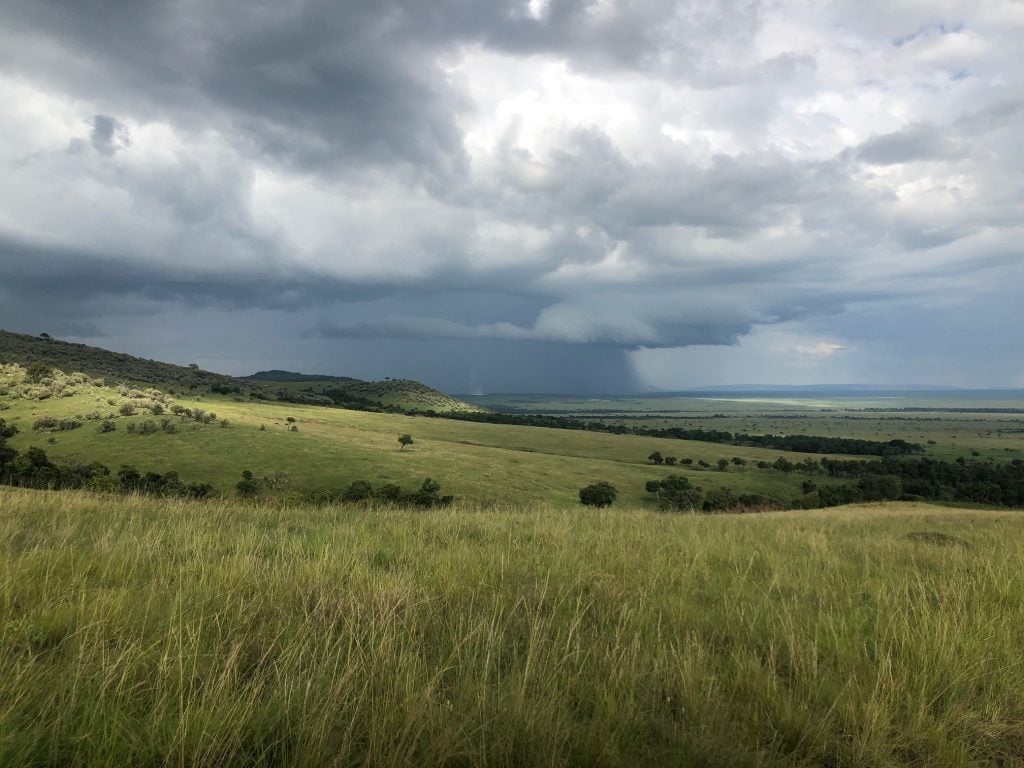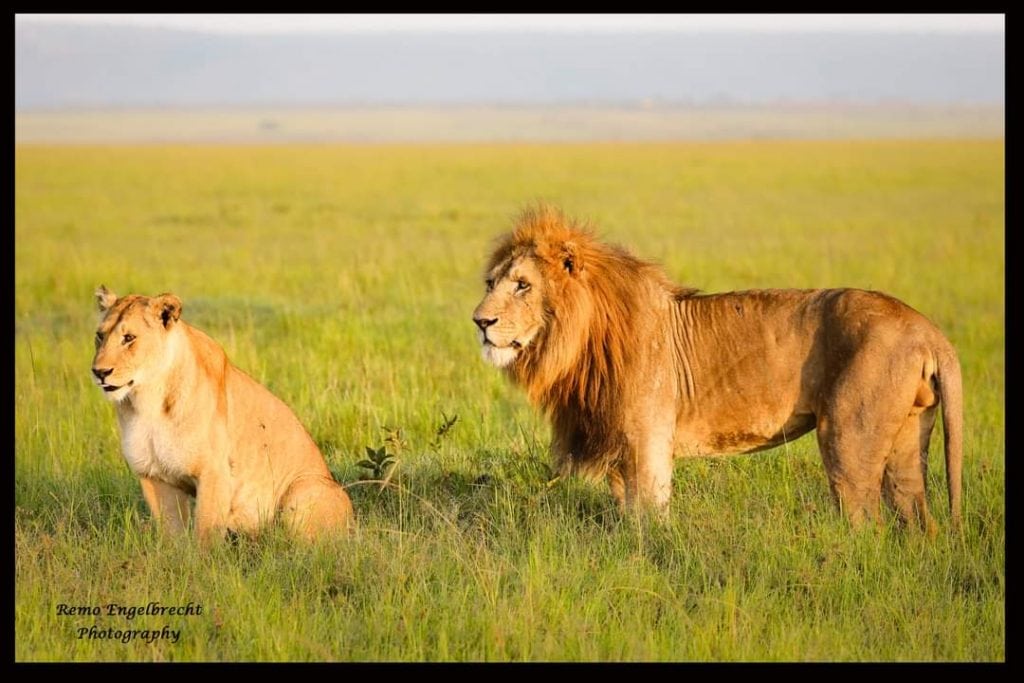 The Mara triangle is teeming with wildlife (despite it not being during the migration months), some of which are not found in Southern Africa. The Topi is an antelope that is the sub species of our Tsessebe and the most frequently sighted. They are interesting and handsome looking, tan in colour with dark grey / blue patches on their hind legs. Ken told us that they say that they have their denim jeans on. We also got to see Rhino from a distance a female with a young calf, which was such a treat, given that there are so few left. Additionally, we saw large breeding herds of elephants, many journeys of giraffes, impala (the males have larger horns than ours in SA), lots of jackal and many birds for the list that day.
The sun was starting to set as we headed back to camp where we were taken straight to the boma enclosure and we experienced the traditional Massai culture of song, dance and jumping whilst enjoying a Kenyan Dawa cocktail drink which is similar to a caipirinha with honey instead of sugar, dawa means medicine and it sure was. The atmosphere was intoxicating with the Maasai performing for us against the dark night with fire pits burning.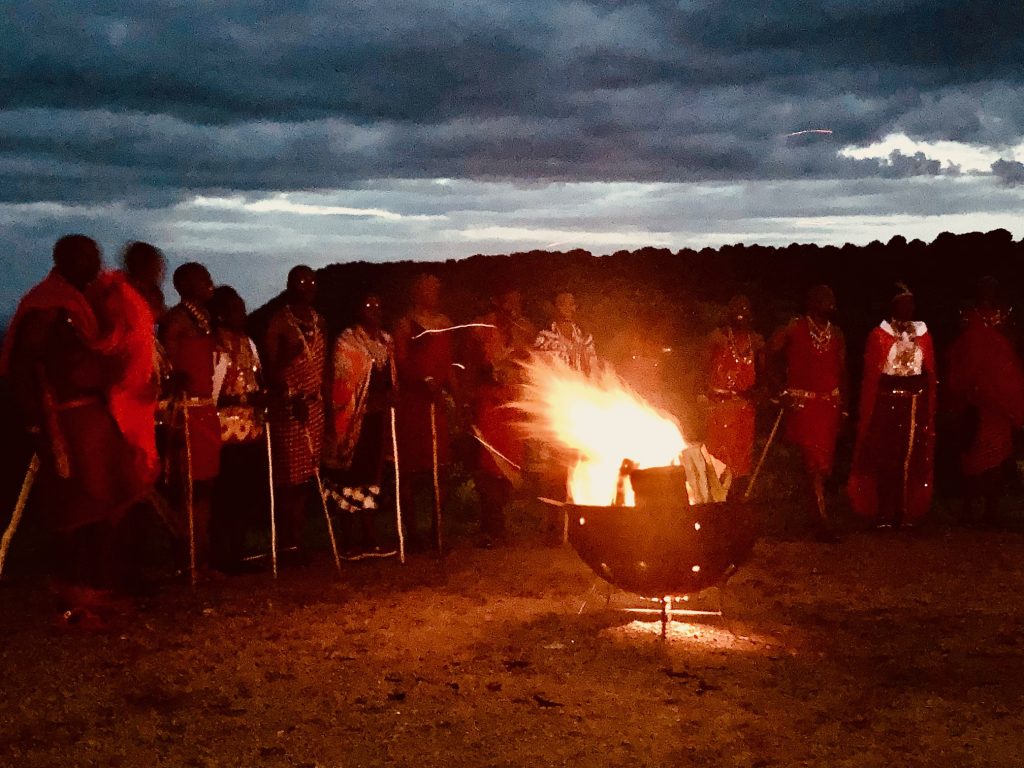 That evening Kate kindly hosted us to a sumptuous dinner. I sampled the delicious fish curry. There is a strong Indian and Arab-inspired Swahili influence in the Kenyan cuisine which comes through strongly in the dishes on offer here.
And now it was time to lay our heads down for a restful night's sleep.
On waking I could not recall the last time that I slept through the night without waking once. What a fantastic feeling. We were woken early and gently with tea to go out on our morning safari. Angama Mara have a philosophy to serve guests when and where they would like to eat. This morning we had opted for a long drive with a packed breakfast. As we headed out, we went back and found the lions again, this time with a second female that had joined the pair. It was another amazing morning as we took a drive to the far south of the Mara triangle to the Tanzanian border where we could see the Serengeti on the other side. Here we saw more lions, a mother with two young cubs, another special morning we had.
We headed back to camp in time for another delicious lunch and to spend some time with Kate who took us to see other areas in and around the lodge like their wonderful Pavillion area that houses the gym, safari shop, pool area and opposite this their interesting photographic studio and the new addition is the map room which is still being finished.
That evening we had another delicious dinner and an early night as we had committed to another early morning drive.
We set out early and it was going to be a short drive this morning with breakfast back at camp. But the Mara wildlife had other plans for us. Just as we were headed back to camp, Ken got word over the radio that a cheetah had been sighted close to the Tanzanian border where we had been the day before. Ken was concerned that Sara and I might be hungry and gave us the option to go back for breakfast or head off to find the cheetah, well there was certainly no contest, the cheetah won hands down, we informed Ken that we would be happy with some nuts and perhaps a beer at the border to commemorate the occasion. We not only found the cheetah and spent approximately forty minutes enjoying watching him in his wild, natural environment but we also had another two incredible lion sightings. One of a "pile" of nine lazing under a tree and the other of three large males on a buffalo kill. Suffice to say by now our "cups" were overflowing. What was supposed to be a two-hour drive ended up being another seven hour one which we were absolutely delighted about.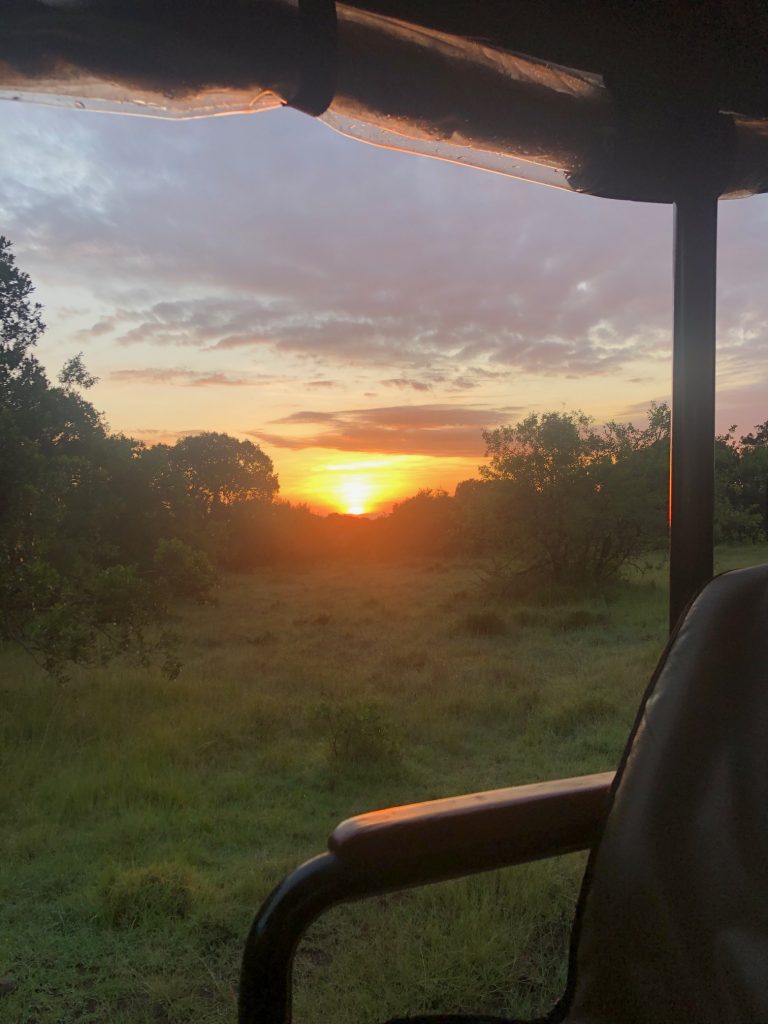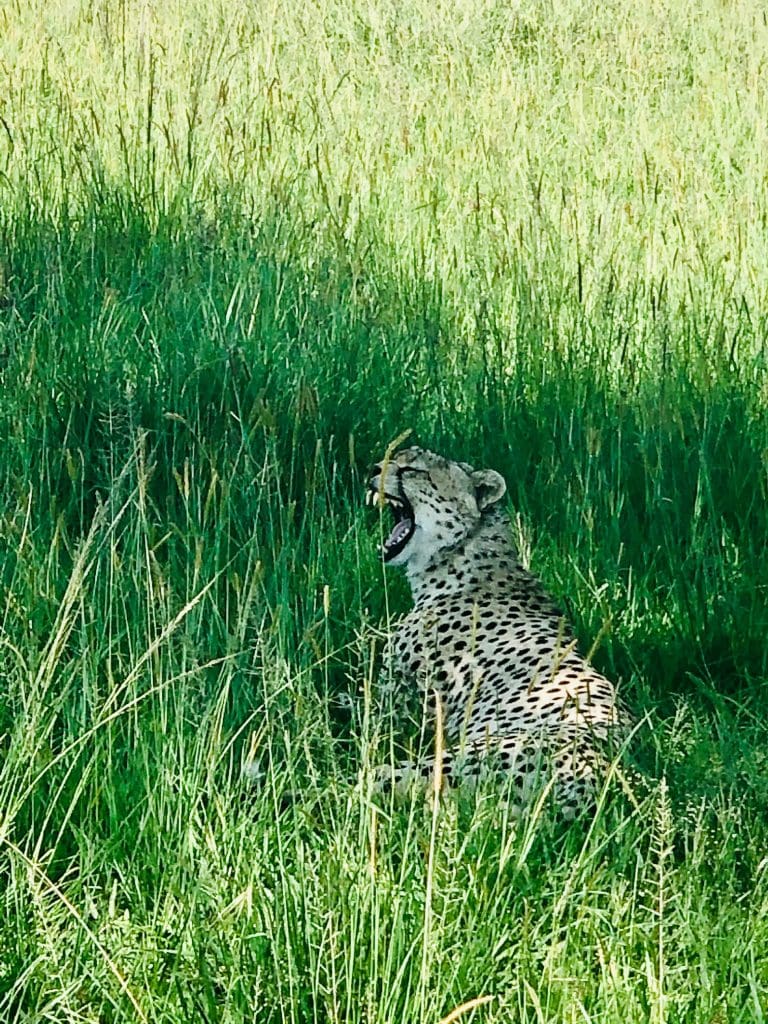 We were pretty hungry by the time we enjoyed another scrumptious lunch and an afternoon nap before eating again at dinner, yes we were indeed well fed, which is very much the Angama food philosophy and echoed in the recent publication of their very own recipe book "Out of an African Kitchen".
On our third morning Sara had arranged a surprise for me that will live on in my memory forever. Ken and the whole team were all in on it as we had agreed to go out on a "nocturnal drive" at 5am. Little did I know that there was no such thing. You see I am completely cat crazy, and having already seen four of the big five, seeing a leopard was the last to complete the list, so a very early morning drive to find one made perfect sense. As we headed out, I had my eyes peeled for a leopard, when I suddenly realised, we were driving in an unfamiliar area and we came into a clearing where there were several other people and it was only when Ken stopped the car and I saw a massive hot air balloon (not yet blown up) and the smile on Sara's face did the penny drop. Sara had booked us a hot air balloon ride over the Maasai Mara, a bucket list dream for many and this morning it was my dream coming true. I could hardly believe it and I felt like the luckiest lady on earth that morning. It was like being in a movie. Floating over those plains and seeing the wildlife running across them, the sun rising in the East and the treetops that you felt like you could reach out and touch. It was a completely surreal experience for which I am forever grateful. We landed and were treated to a champagne breakfast out in the middle of the bush with a huge herd of elephants in the distance, one thinks these things only happen in the movies, as I mentioned before.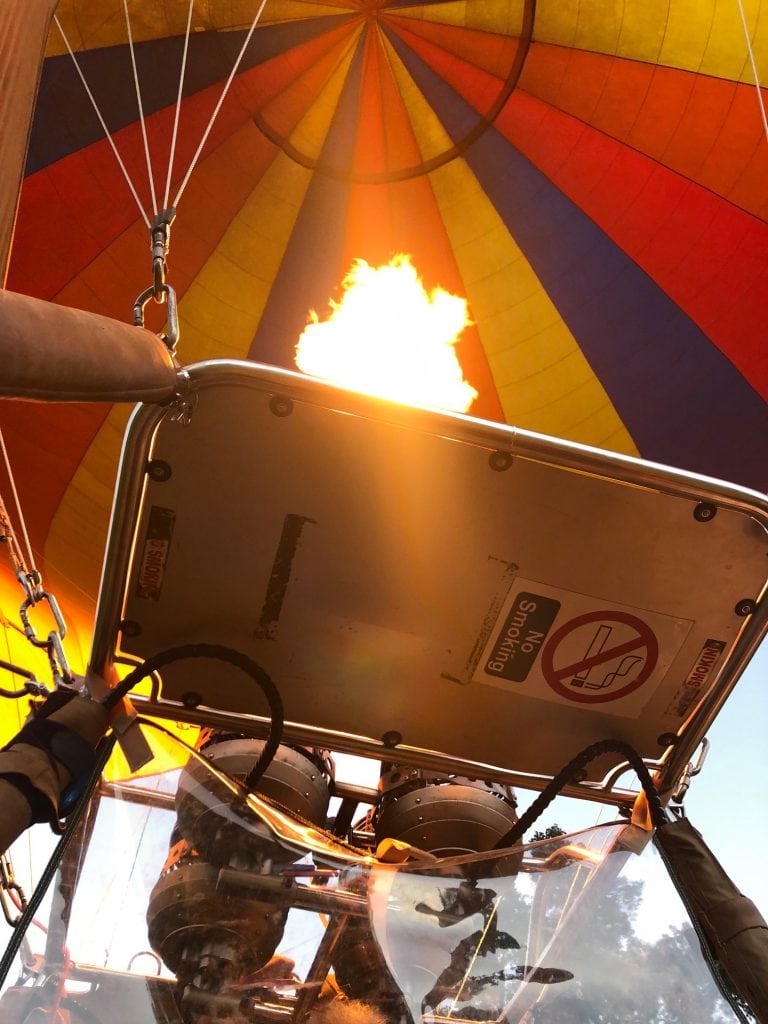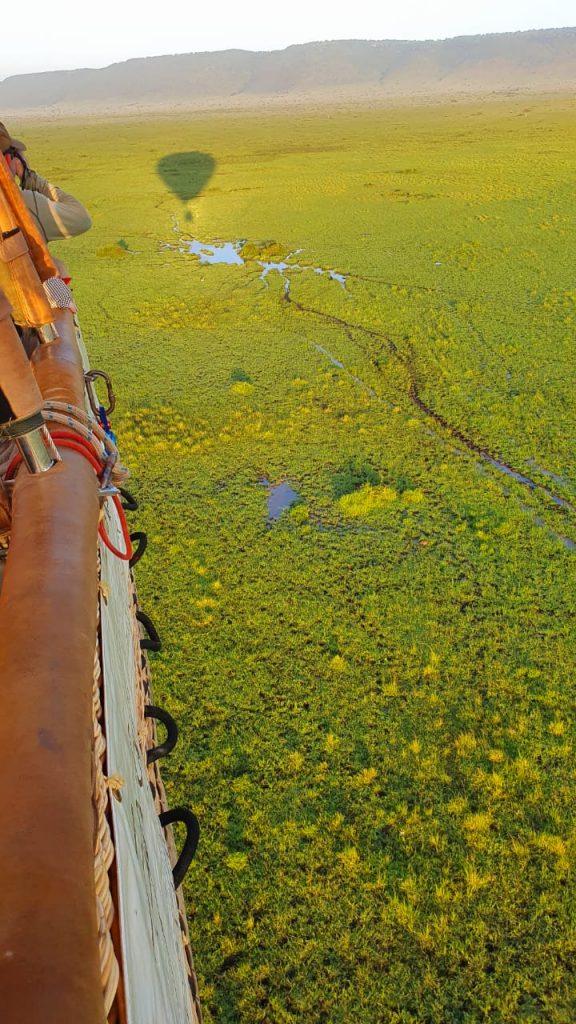 Back at camp, we had been booked in to experience the "Shamba" – meaning field in Swahili – lunch, this is their special kitchen garden. Another amazing concept that contributes to the overall culinary experience at Angama Mara. We picked our own salad leaves and vegetables to enjoy at lunch. They have built a deck area within the Shamba where they set up a table which once again looks out over the open plains of the Mara and we enjoyed a delightful, light lunch of salads, cheese and delicious rose wine, simply sublime.
It was time for our very last drive with Ken, which we relished and enjoyed so much. Just being out in the bush again had provided me with such a sense of rejuvenation after a long and tough year past.
Our last evening, we were treated to the special bush BBQ dinner which is set up in a forest location close to the lodge, where the amazing team of chefs treat guests to a fine array of grilled meats with a selection of salads and vegetables. What a wonderful way to end our Angama experience, hosted by the lovely Shannon and joined by another South African guest, Remo from Kwa Zulu-Natal, who is a keen photographer and kindly shared some of his amazing images which I have credited within this post. Sitting around fire braziers blazing and sharing stories of our amazing Angama experiences was the perfect ending to this incredible East African safari.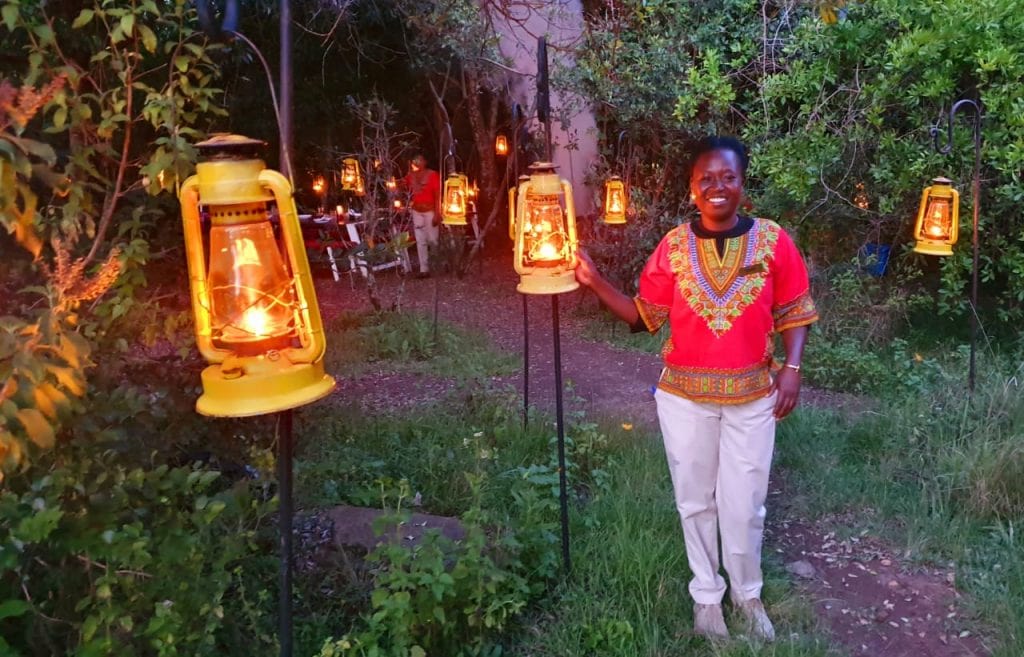 Our last day consisted of a very interesting nature walk with Daniel, one of the Maasai naturalists, where we encountered a large herd of water buck and some zebra and added a few more birds to our list. That reminds me, I promised earlier in the post to share how many birds and mammals we managed to count during our four-day safari, it was 112 bird species and 23 species of mammals. We ended the nature walk with a stop in to the "Out of Africa" picnic spot and viewpoint which we are so pleased we added in at the last moment. It is certainly worth seeing and for anyone looking for a special spot for a romantic occasion, this has got to be on your list!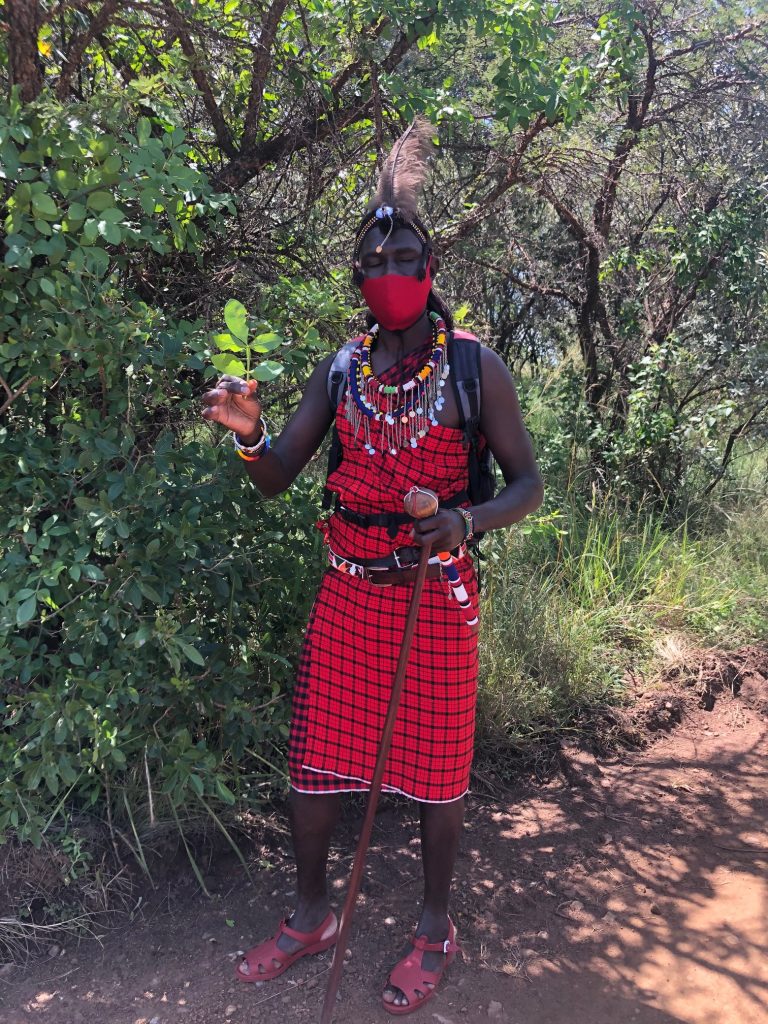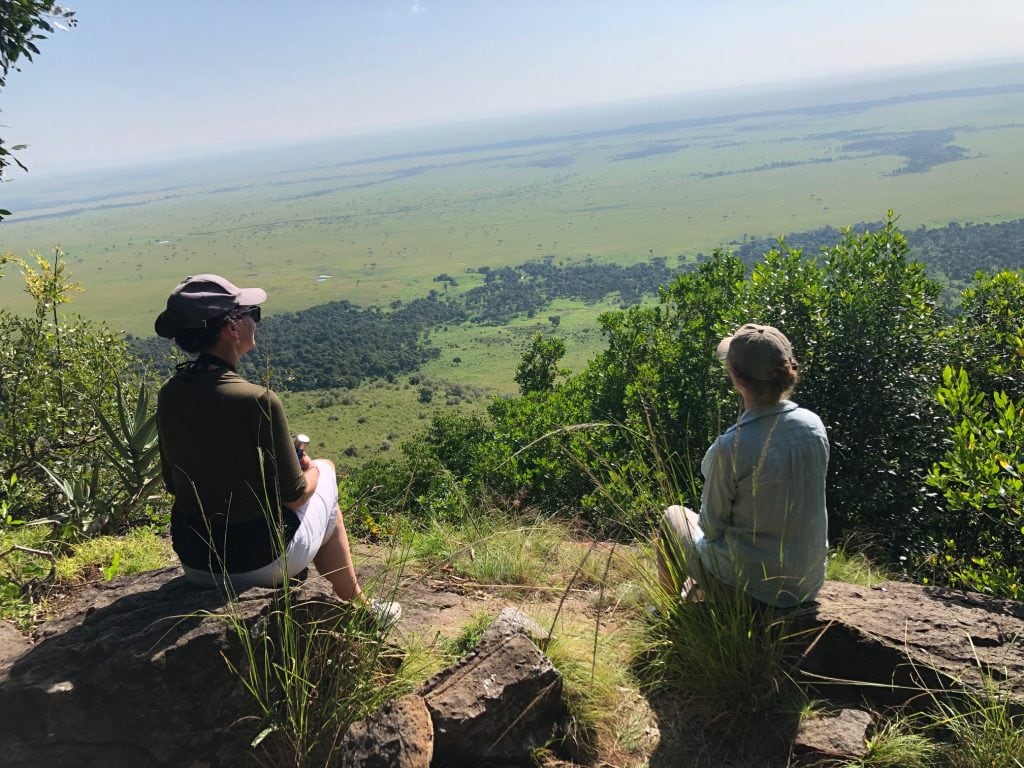 We enjoyed our final lunch before saying a sad goodbye to the Angama family who had treated us as such during our stay with them. It was a bittersweet moment leaving that beauty behind but knowing that we had made new friends and that our mutual love for Africa would always keep us connected in one way or another. I also knew that I still had much to look forward to including returning to my second home at Matetsi Victoria Falls which I had missed terribly during the year.
"When you have caught the rhythm of Africa, you find out that it is the same in all her music."
Karen Blixen
Nairobi Highlights
We returned to Nairobi where we would have another three nights at the beautiful Hemingway's Hotel, Giraffe Manor and The Kempinski Villa Rosa (which is included in the Waterfalls and Wildlife itinerary) before boarding our Kenyan Airways flight (the inaugural flight back since March 2020) to Victoria Falls, Zimbabwe. Highlights in Nairobi included the Karen Blixen museum, it was so interesting learning about the legacy that this remarkable lady left the Kenyan people, the Giraffe Sanctuary and catching up with industry colleagues and friends. We also had our 2nd COVID test that would be required for entry into Zimbabwe.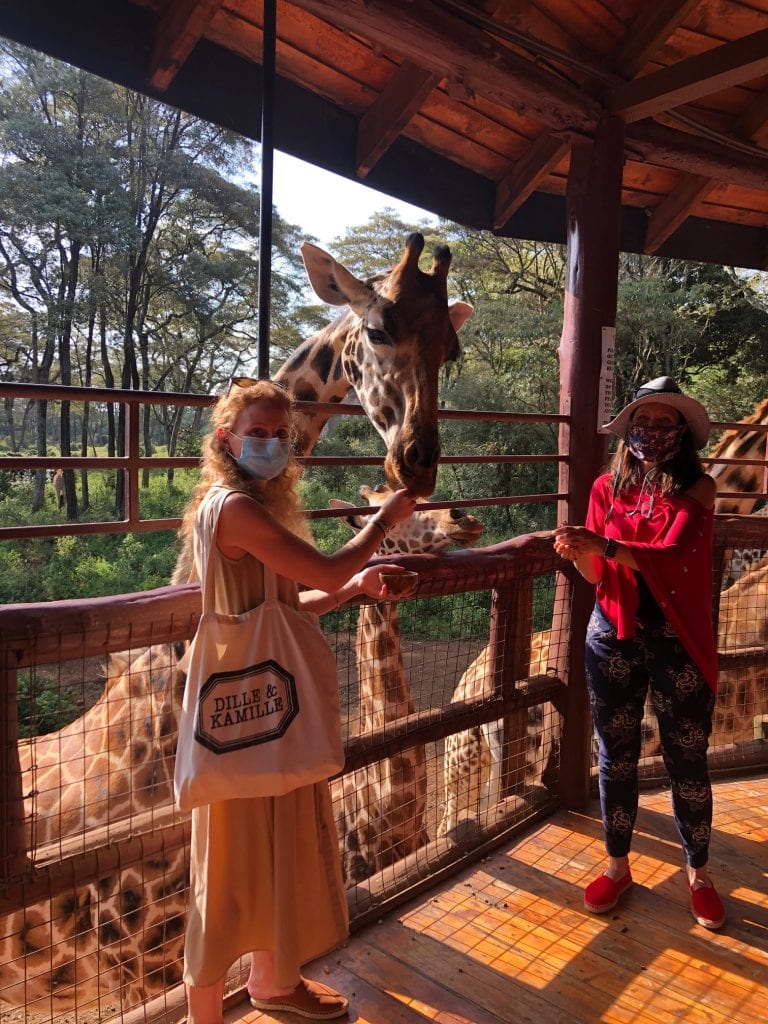 Heading South to a World of Wonders
We were up at 4am for our 7:30am flight. Negative COVID-19 tests in hand, we boarded our flight which was just a quick 3.5 hours back to Victoria Falls. Here we were warmly welcomed by Tinashe from our sister company, Signature Africa who looks after all ground handling for Matetsi Victoria Falls. It was wonderful to be back and I could not wait to see the team back at the lodge and be back on Matetsi Private Game Reserve.
Look out for Part 2 of this travel diary post, in which I recount my five days at Matetsi Victoria Falls.
Sneak peek: on the afternoon of our arrival, we headed out on our first game drive on Matetsi Private Game Reserve with Guide Mengezo and Tracker Musa, heading towards Westwood Vlei for sunset, the next thing Musa exclaimed "leopard" and there she was, the perfect leopard sighting up a tree around the Namakana Pan area. So, in 8 days I had really seen the Big Five. Not only that, as we drove away to allow guests in other vehicles to enjoy the sighting, we heard over the radio "there are two and they are now mobile". We rushed back and caught a glimpse of the young male sub-adult leopard cub that had been hiding in the nearby thicket bush and was waiting to get back to an impala kill that we then realised was up another tree close by. What a wonderful welcome back this was.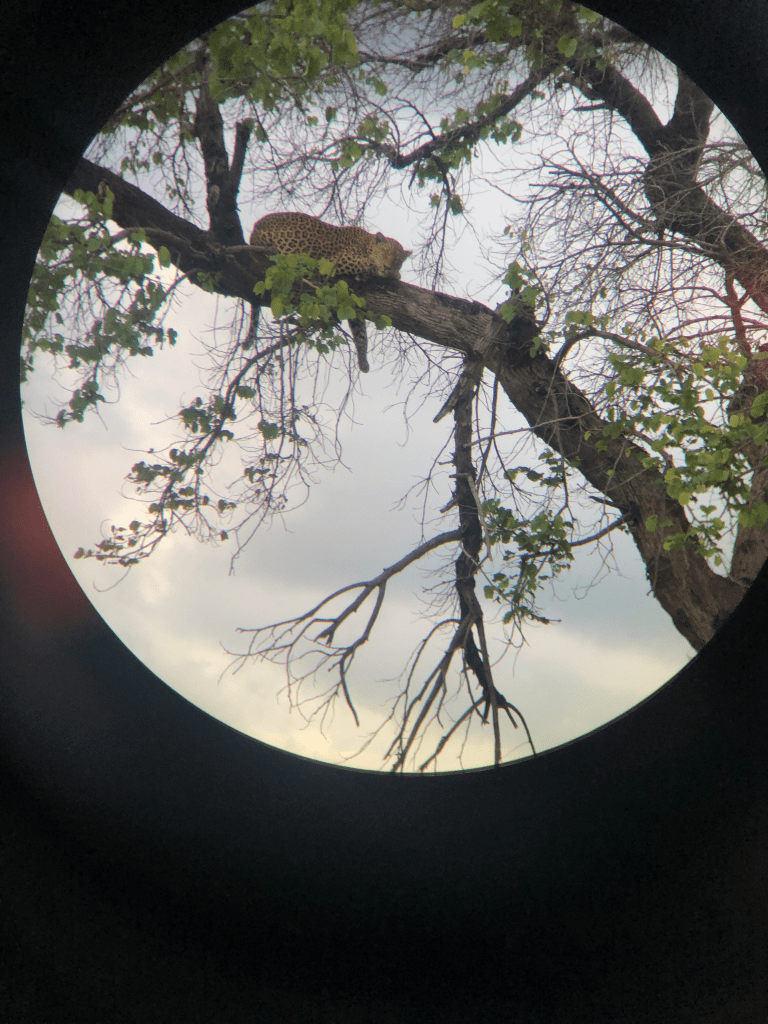 Travel Blog Gallery