Matetsi Victoria Falls Dining
Matetsi Victoria Falls is often referred to as the ultimate Victoria Falls destination (and not just by us!), and a significant contributing factor to this is the culinary experience.
At Matetsi Victoria Falls you'll enjoy a range of different dining experiences during your stay. Together with our Executive Chef, Shane Ellis (who you'll hear more about in a later post), we have put together this example of what a day of dining at our luxury safari lodge might look like. Through this we hope to show you that "although" we are "in the bush" (Matetsi Victoria Falls is based on a 55,000 hectare private game reserve), we understand that culinary experiences are so much part of your whole guest experience, and our chefs endeavor to WOW you with a range of incredible dishes (and they are adept at catering for a wide range of dietaries). Our menus, which are prepared daily, focus on regionally sourced, exceptional produce.
Matetsi Victoria Falls Breakfast
Start your day the right way with a delicious healthy breakfast, of fresh fruit, homemade muesli, and fresh pastries, served under the shade of a giant African ebony tree. Our chefs will then whip up your hot breakfast of choice in our interactive kitchen.
Breakfast sets you up for a mid-morning activity, such as canoeing or a nature walk. Otherwise you might prefer to relax and read a book in the library or do a spot of retail therapy at our shopping boutique.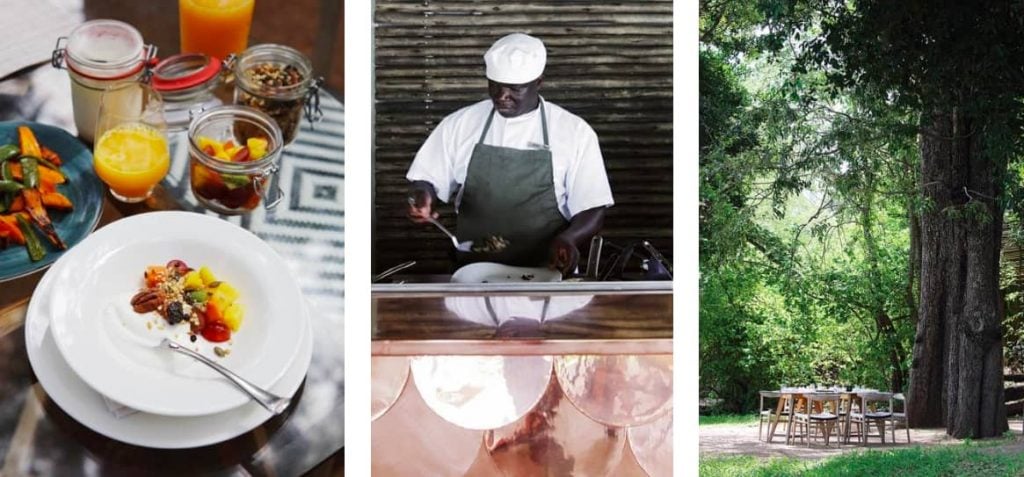 Matetsi Victoria Falls Lunch
Enjoy lunch, served on the banks of the Zambezi River. For starters, tuck into crocodile ceviche served with harissa mayo, before your vegetarian main course option of carrot risotto with lemon basil oil. For dessert our pastry chefs spoil you with a Callebaut and almond éclair with bush lavender crème pât filling (often referred to as "the best éclair in the world").
Matetsi Victoria Falls High Tea
You might choose to take a dip in your private plunge pool, relax in the wine cellar with a glass of wine in hand, or have a massage at the spa, before coming through for high tea.
For our Matetsi Victoria Falls high tea, we have a different offering each day, depending on a number of factors (including the preferences of our guests in house and the season). We love the tiered stands, that our chefs populate with a range of sweets and savouries from our pastry kitchen. We also love the homemade cakes that our chefs create, though we have trouble picking an absolute favourite and could probably write a whole article just about these wonderful cakes.
Matetsi Victoria Falls Dinner
Your evening might start with a game drive through Matetsi Private Game Reserve, including a beverage stop at one of our stunning sundowner spots. Then while you are enjoying your night drive, back at the lodge our chefs will be preparing for dinner service. On return from your game drive, choose to freshen up in your suite, or come straight through to the bar for a cocktail or glass of wine. Peruse the dinner menu whilst sipping on your beverage of choice, and you'll be escorted to your table when ready.
Start with a spiced sweet potato soup with charred corn salsa and chilli oil, or smoked brisket with homemade pickles and parsley champagne jelly. Followed by a hearty main course of slow-cooked leg of lamb and a white chocolate tart with vibrant garnish be the perfect sweet temptation to end your meal.
One of our waiters, John, always says "The more you eat, the more animals you see." And our chefs are hard at work throughout the day to ensure John and the team have a wonderful culinary offering for you.