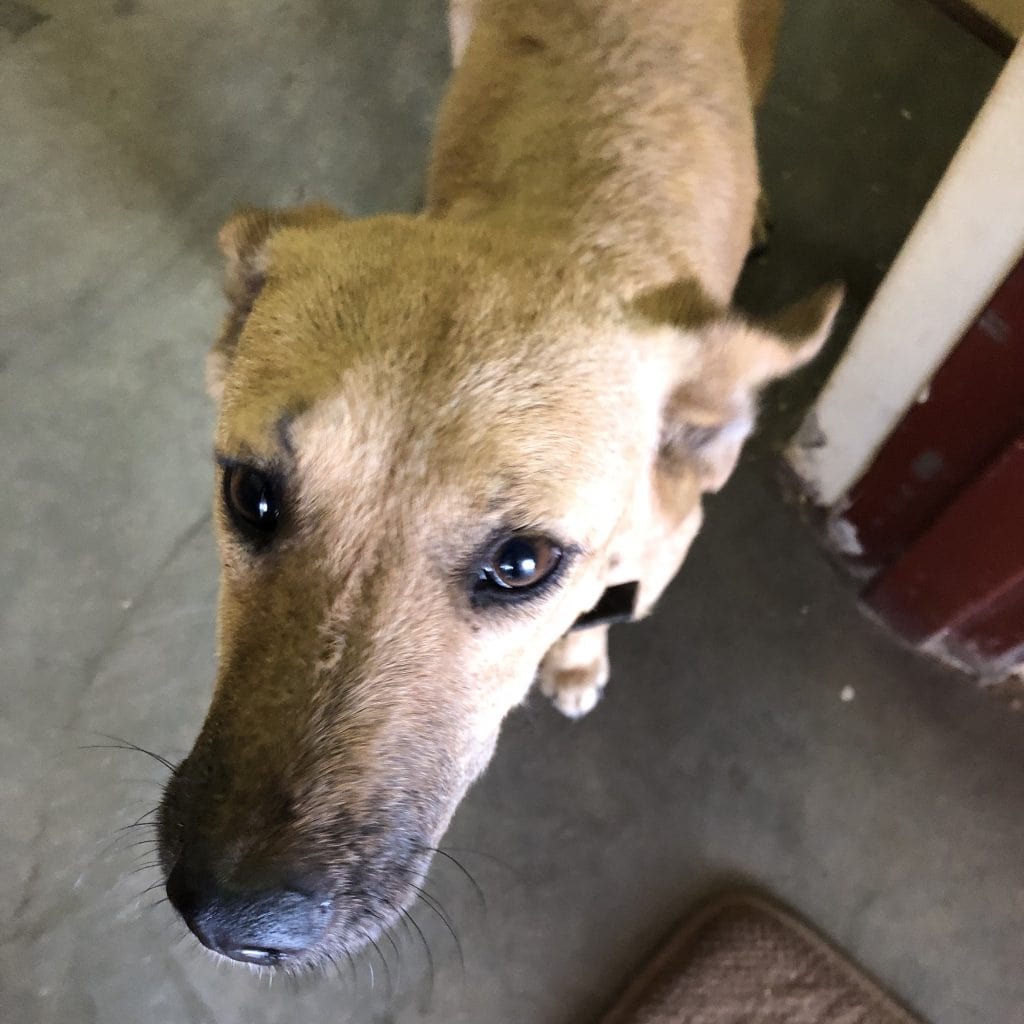 World Animal Day is an international day of action for animal rights and welfare celebrated annually on October 4, the feast day of Francis of Assisi, the patron saint of animals.
Today on World Animal Day 2020, we would like to shine a light on the amazing work that Veterinarians for Animal Welfare Zimbabwe (VAWZ) do by sharing the story of Lucky – a young puppy, who faced unthinkable ordeals before she was even 6 months old, and who we are glad to say has had a second chance at life. Lucky is now part of the extended Matetsi Victoria Falls family.
VAWZ work to improve the welfare of all animals in Zimbabwe, allowing them to live their lives free from fear and pain. As an example of the scale of the great work that they do, at the VAWZ Rural Animal Welfare Clinics they have vaccinated 9369 dogs to date this year – helping protect communities, their animals as well as wildlife from the deadly disease, Rabies.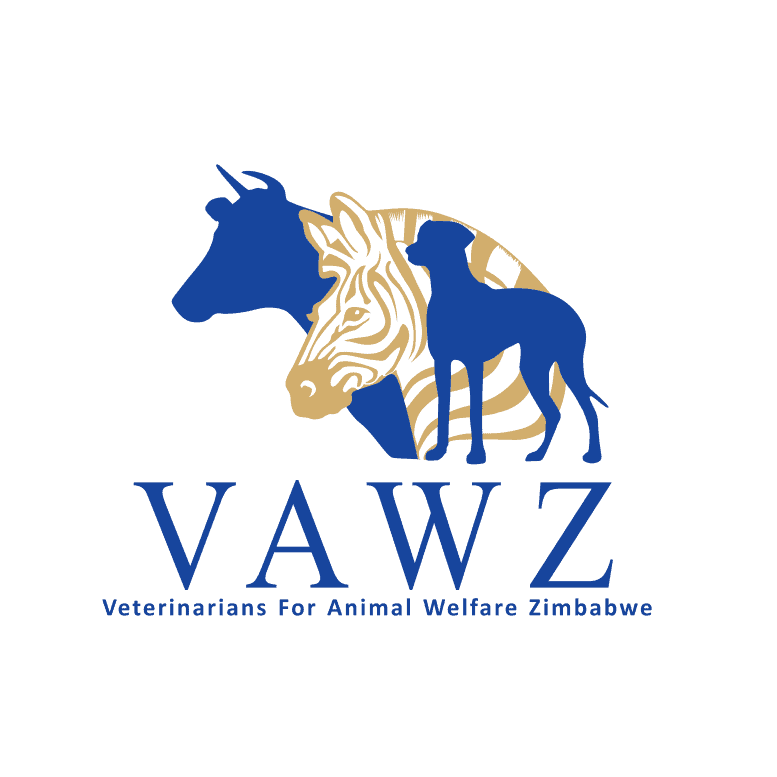 ---
One cold Friday morning in late July, canoe guide Mengezo and I were driving out on the Kazangula Road toward Matetsi Victoria Falls. Neither of us were meant to be there then. I had not planned to go out until Saturday, and Mengezo had originally planned to go out in the afternoon. But we found ourselves driving along, chatting all things nature and wildlife related. About the wild dog puppies that had been born in June… About the fantastic number of lion sightings that we had had on Matetsi Private Game Reserve that week.
And then, some 15 km from Victoria Falls town, in the Zambezi National Park, we saw a lion-colored wild dog puppy-sized creature run out in the road in front of us, and then back into the bush. As we stopped the car, and it ran back into the road and under the stationary vehicle, we realized that it was a puppy! A mixed breed domestic dog! Out there, in what (in domestic pet terms) could be considered the middle of nowhere. The puppy, which we later learnt was a girl, was terrified and did not want to come out from under the car. Mengezo got down on hands and knees to try to coax her out. We were there for some minutes wondering what on earth we were going to do. We didn't want to scare her in case she ran off into the bush, and into all sorts of dangers such a roaming hyena!
Finding a half-starved puppy in the middle of the bush was a novel occurrence for both Mengezo and I – not a situation we had dealth with before, but we just knew we couldn't leave her out there. Eventually she came close to Mengezo and he managed to take hold of her by the scruff of her tiny neck. There was barely anything to her, just a little sack of bones. She was shivering from fear and cold. We wrapped her in a scarf that I had in the car, and she was so small that she fitted inside a tote bag. We decided to drive on to Matetsi to drop off Mengezo, get her some water and then I would figure out what to do next.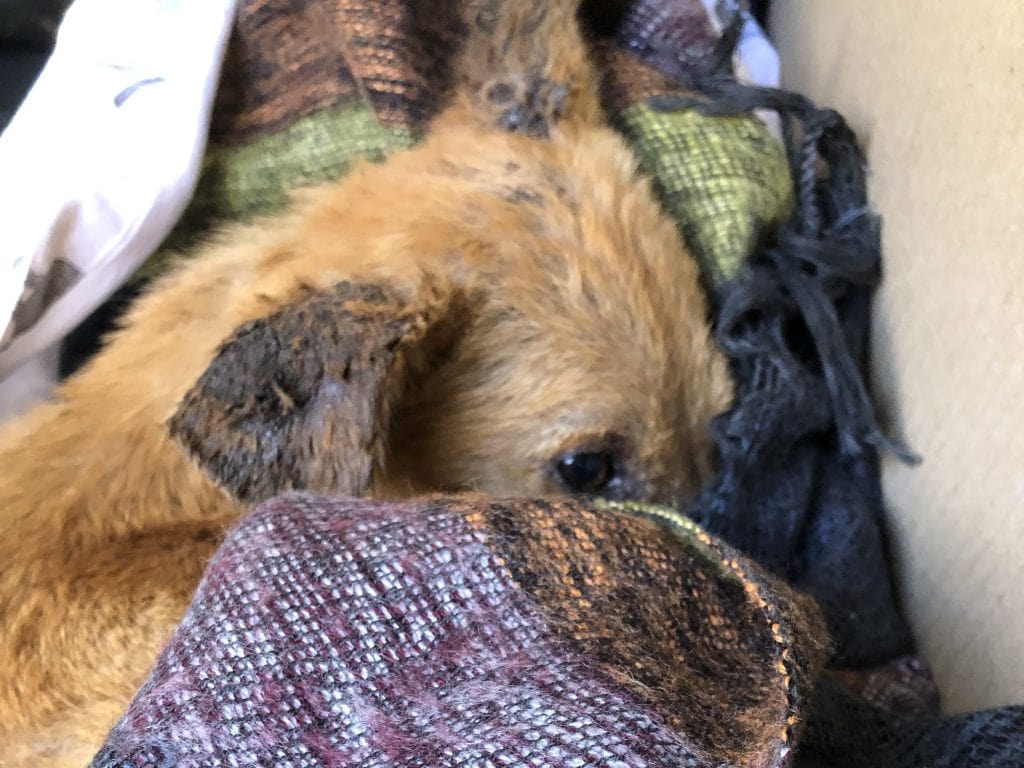 As we drove, we started to wonder how she might have gotten out there… All sorts of theories have emerged since. Perhaps someone drove out there to dump her (but it's really quite far). Perhaps she had simply wandered out of town (but again, it's really very far for a small puppy). Another theory (that many people think is most likely) is that she might have been taken out there by poachers, who are known to hunt with dogs, for training and then gotten away or been left.
Eventually we concluded that only the puppy would know her true story, and I moved on to thinking about possible names. I am aware this is in direct contradiction to "Rule No. 1 when you find a stray dog" i.e. Do not name it. But we had some time to pass. I thought about the tree that she has run out from under, a Zambezi Teak, and the strange cloud formation that was in the sky that day… Perhaps she could be named for the tree or the cloud…I asked Mengezo about the scientific name for the Teak, which he explained is Baikiaea plurijuga. Then I explained my reasoning for the question, and he laughed and said, "Of course she has to be called Lucky." Of course, she did, and of course she was. By the time I dropped off Mengezo and got her a bowl of water (and a box etc thanks to the Matetsi Victoria Falls team), she was named Lucky.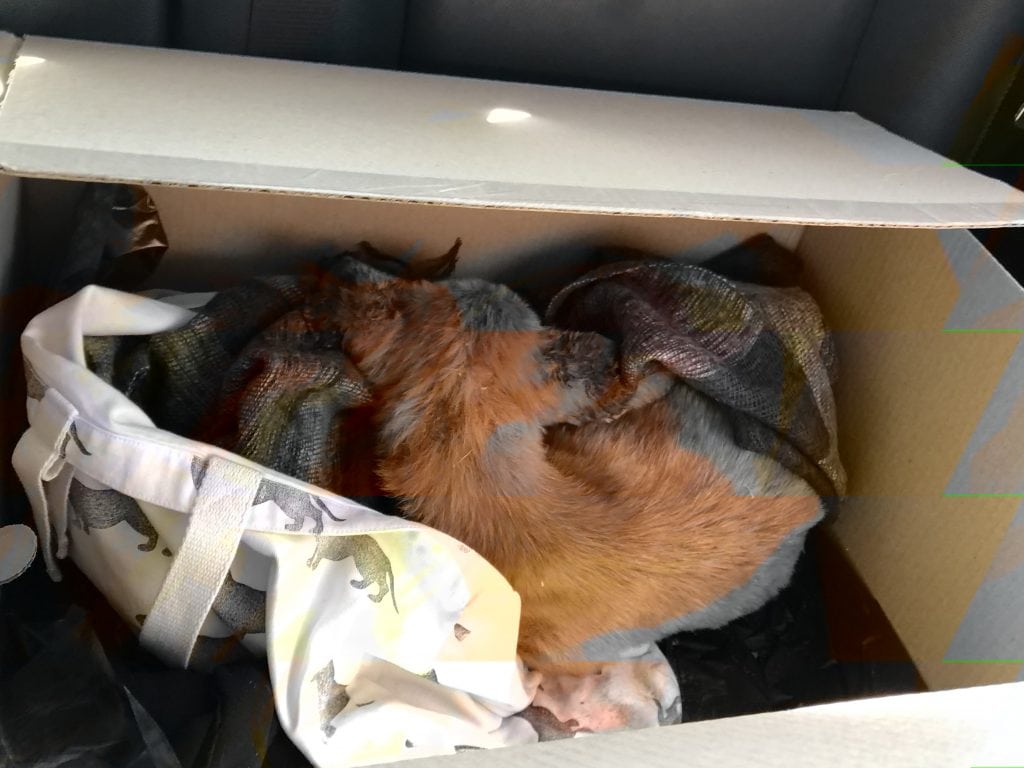 Though to be honest, it wasn't clear whether she would survive her ordeal. Before we had wrapped her in the scarf, I'd seen how skeletal she was. And since then she hadn't really moved. She just slept. Drank a bit of water while lying down, clearly exhausted. And then slept some more. Then I got on the phone to Veterinarians for Animal Welfare Zimbabwe (VAWZ) – they have a center in the Victoria Falls area, and I knew they would know what to do. "Bring her in" they said.
And so back to Victoria Falls we went. I picked up one of the VAWZ volunteers in town, who was kind enough to give up her afternoon to show me the way to the VAWZ center and introduce me to Dr Isaac Moyo the VAWZ vet. On arrival, we were greeted by the very friendly Blues, the resident dog (who is wonderful with other dogs and helpful at ensuring any puppies or dogs that come in are well socialized and will be in a good position to be rehomed). Dr Moyo and his assistant Themba were waiting for us and they immediately attended to their little patient. Dr Moyo explained that the "lucky lady" was dehydrated, malnourished, had a terrible skin disease and likely had worms too. He estimated that she was only 4 or 5 months old. While Themba held Lucky, Dr Moyo gave her injections and jabs, and reassured me that she was going to be alright. Lucky would need to spend eight weeks at the VAWZ center while they would keep treating her, looking after her skin and get her well-nourished before it would be possible for her to start looking for a home.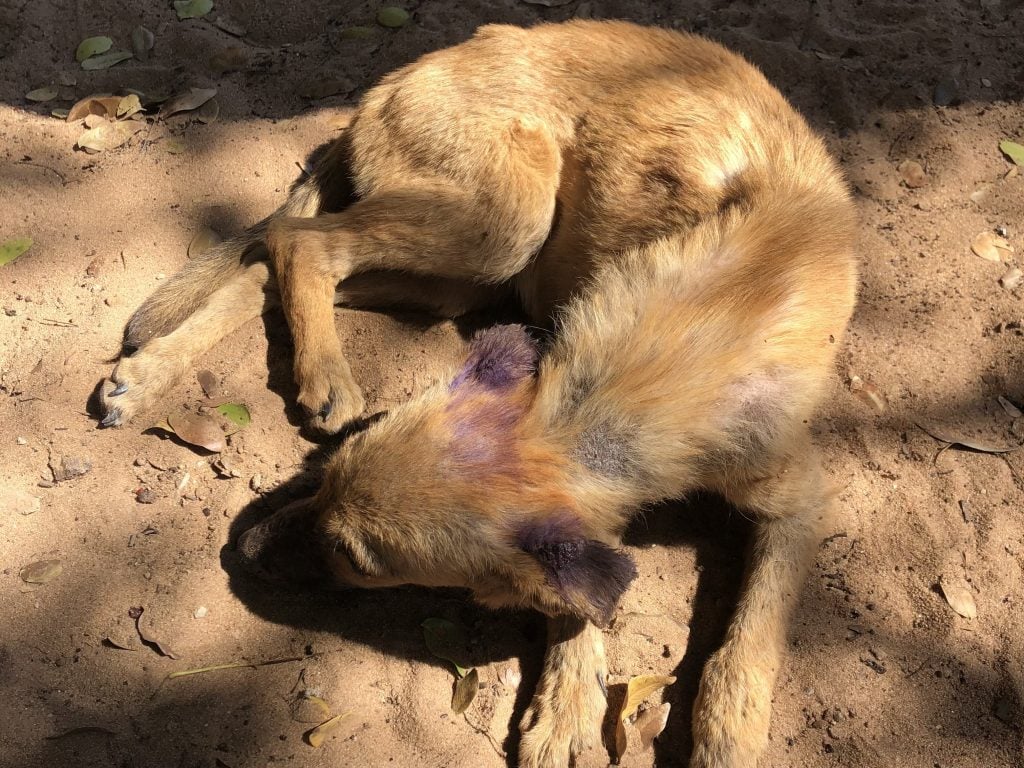 While Themba got Lucky settled, Dr Moyo showed me around their smart, well-kept facilities. This centre is situated in the Monde rural community living adjacent to Victoria Falls. It serves the community as a facility to treat their domestic animals and livestock in an effort to improve the livelihoods of the people living alongside wildlife. Furthermore, the centre has the clinical capacity to be able to service the wildlife cases needing additional veterinary care. Being so impressed personally, I used later visits as an opportunity to introduce colleagues to the center, to raise awareness about the services that VAWZ offer and the great work they are doing for the community, their animals and the wildlife
On each visit to the VAWZ center, it was wonderful to see Lucky's improvement. Dr Moyo and Themba ensured that she was well nourished, hydrated, de-wormed, treated for mange, and had her rabies and parvo jabs. She slowly regained her energy and her skin healed and then she thrived. She made great friends with Dr Moyo and his assistant Themba and of course the VAWZ dog, Blues. Though she was always shy of other people. It was evident that she had been treated very badly by humans in the past and that it would take a lot of love to get her to trust people again.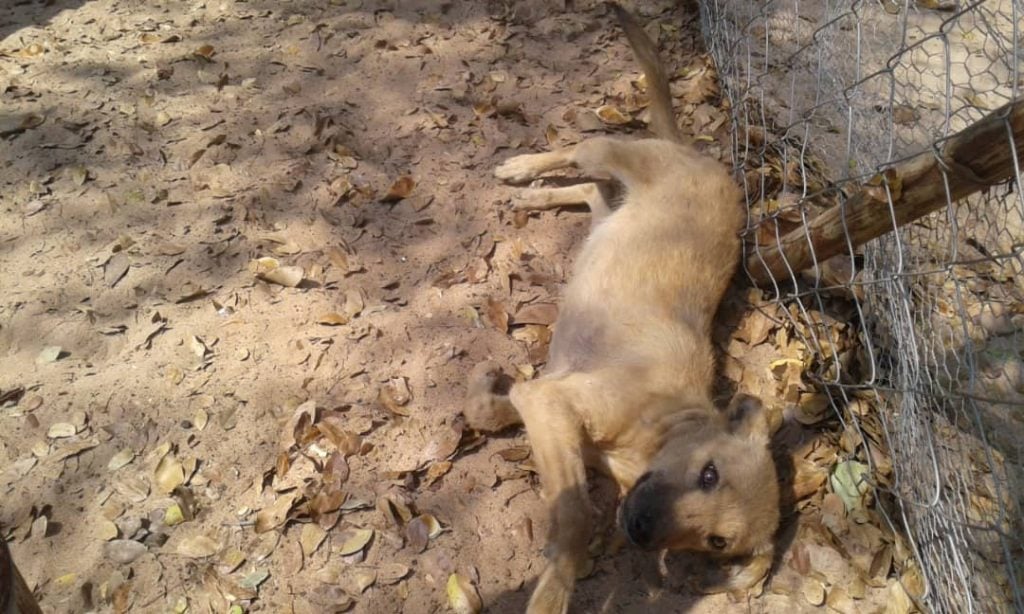 After a few weeks, my colleagues and I made a recommendation of a possible new home for Lucky, with another colleague who is wonderful with dogs, and has often looked after my dog Sam. He would have no financial burden, as a sponsor had already offered to cover all of Lucky's food and medical bills. Dr Moyo did a full inspection of the property that would be Lucky's new home and met her potential new owner, and we were all delighted when he gave his stamp of approval.
Lucky moved into her new home eight weeks after we found her skin-and-bones in the middle of the Zambezi National Park. She had grown significantly, as puppies do in just a couple of months. And many have remarked "what a beautiful dog" she is. Her first days she was very shy though, as predicted. But slowly she learnt to trust her new family, and the extended family that drop in to visit her and have donated blankets and toys and bowls etc to make her new home as comfortable as possible. She absolutely loves her new dad and his family. It fills our hearts to see them playing together, and we feel very lucky to have such wonderful people as part of our extended family and to have Lucky as part of our extended family now too.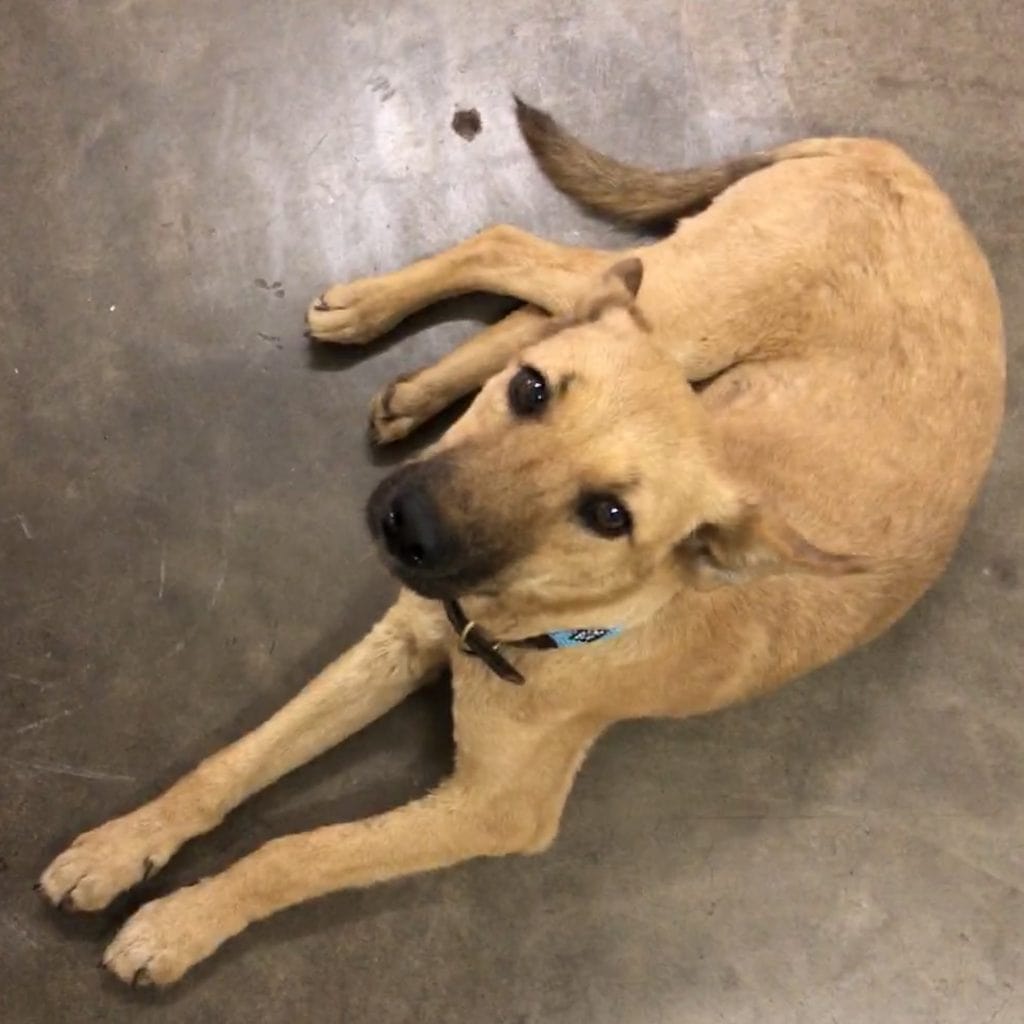 None of this would have been possible without the hard work and dedication of the VAWZ team. We are so grateful to them not only for the care that they gave Lucky but also for the amazing work that they do across Zimbabwe.
---
VAWZ is an organization that the extended Matetsi Victoria Falls family have supported regularly through cash and kind for over 10 years. To join us in supporting VAWZ, either with a once off gift or with a regular monthly contribution see the funding page of their website. Donations are always needed and gratefully received!
You can also support VAWZ by creating awareness on social media by liking and sharing their Facebook pages:
VAWZ Victoria Falls Community Animal Health and Welfare Centre – Victoria Falls
And if you have supported VAWZ do let us know by emailing sara@matetsivictoriafalls.com Lucky would like to send you a personal "Thank you".