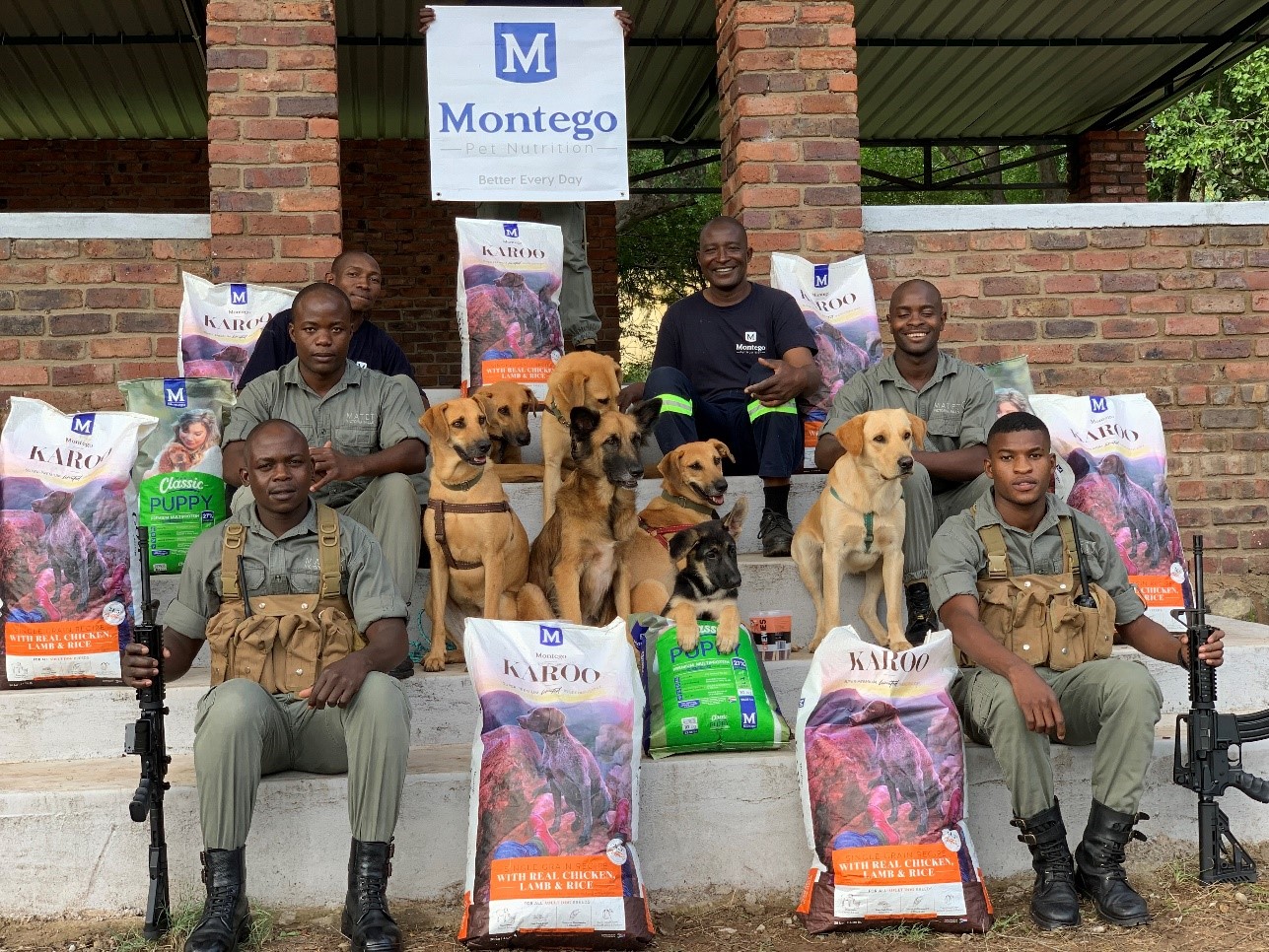 Poaching is a major problem in Africa and poses a serious threat to the beautiful and endangered wildlife that roam the continent. Domestic animals also suffer, in Zimbabwe there are thousands of dogs that roam the street starving and in extremely poor condition.
This is a story of a new life for five very special rescue dogs who stared out their life with no hope for the future in the kennels where they were born after their mum was rescued from the streets, they then remained there for the next 3 and a half years…
It all started with a twelve-hour drive from Matetsi Victoria Falls to Harare, where in the kennels were five dogs – all siblings. They were all terrified of people due to lack of contact, their ears where raw and bleeding from fly bites and they were completely confused. These rescue kennels do the best they can but the number of animals needing them far outweighs the level of funding and support that they currently get. Animal welfare organisations have been particularly poorly funded through the pandemic.
After over 1,000 km drive to Matetsi Private Game Reserve, five scared rescue dogs found their new home amongst our Amaganyane anti-poaching team.
So, what was the first step required to turn five scared rescue dogs into Matetsi's anti-poaching dogs and wildlife heroes?
FUN, FUN, FUN! Training a dog is all about positive reinforcement and play!
Even getting the dogs to show an interest in food became a process as they did not trust people to come close enough to take it and had no idea what treats where.
Learning to play and interact with people was the biggest hurdle these dogs faced in their journey to becoming tracking dogs. This took time, patience, and an exact routine – their daily training (initially play schedule) was very regimented and intense. To speed the process up we moved them into the management house (best kind of chaos) so that they would have constant contact and attention and learn from the dogs we already had there (see "K9 assistants" below).
Soon the dogs grew to enjoy the games, attention, and gourmet treats (especially the leftover stew from Matetsi's 5* kitchen). It was at this stage that the games moved on to basic hide-and-seek with one handler disappearing into the bush with the rest of the pack and hiding, then the one dog that was left behind had to find his friends. The reward was not only the companionship of the pack but a juicy piece of beef, soon the beef was enough, and they began tracking people without their friends. Over time we have gradually increased the distance and attention span of the pack.
Their progress is truly remarkable and inspiring, we will keep updating on the progress of our fabulous four* who are fast becoming true heroes of the bush.
It is our hope that the success our dogs have shown and the speed at which they are progressing from scared rescues to prolific anti-poaching and tracking dogs, that they will pave the way for others to do the same and give hope to dogs that otherwise will not get a happy ending.
*One of the siblings, Motsi, meaning "one" is a bit of a loner. She hasn't taken to tracking and prefers to stay separately from the team. We of course make sure that she's well looked after and loved and given time she may become a companion dog or be adopted within the extend Matetsi Victoria Falls family.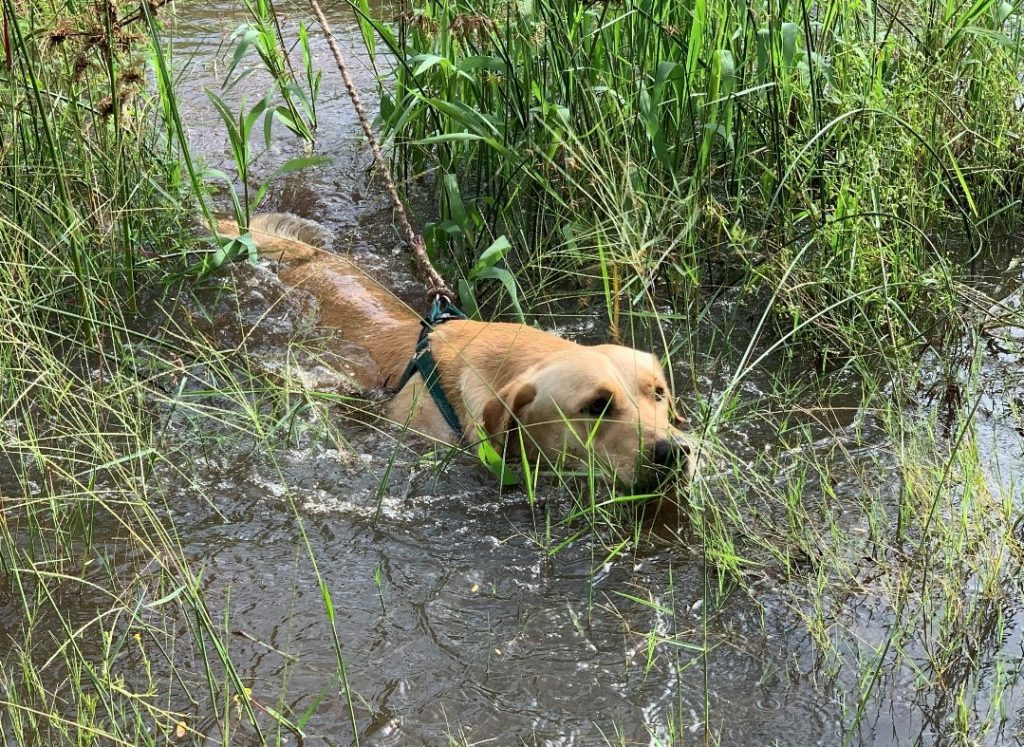 Meet The K9 Team
Sibindi: with a name that originates from her "Strength", this clever lady is the leader of the pack she is the strongest tracker from the new recruits and was the first to complete a full Track.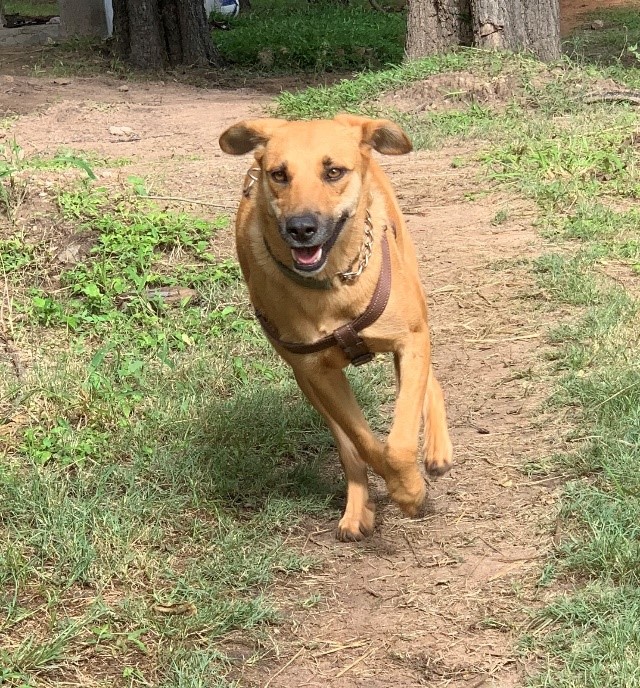 Sabi: our Sabi Star is exactly that, a super star, she is a fantastic tracker, but she also loves a good fuss and taking Beni (see "head trainer" below) for walks.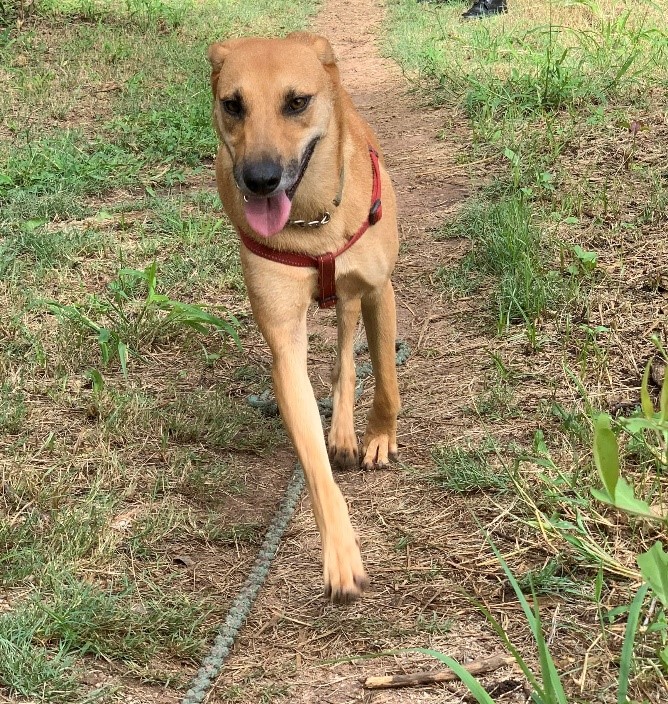 Tamba: this handsome boy is still up and coming, he likes to work literally glued to his handlers' legs, but he really gets into his tracking swing when he is working with his best friend Alfie. "Tamba" means "play" – he was given this name as he has always been the most playful of the siblings.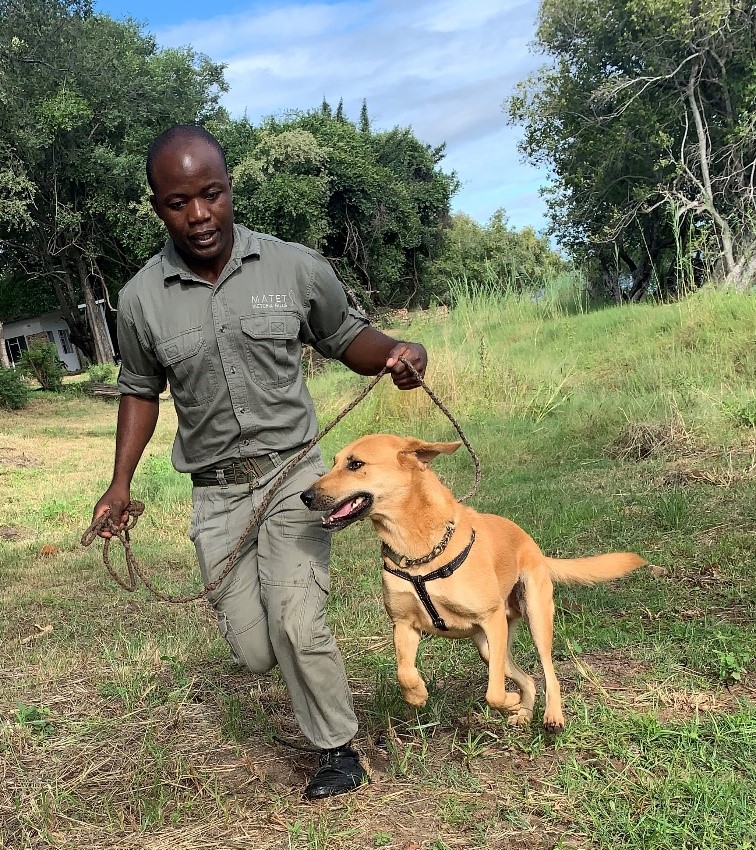 Tonga: cheeky Tonga took a little longer to start tracking but he really seems to be finding his own. He adores his Beni but has a lot to say to strangers, this is not a bad trait in a dog meant for security and anti-poaching. He is named for the Tonga people that live along the banks of the Zambezi River, which he now also calls home.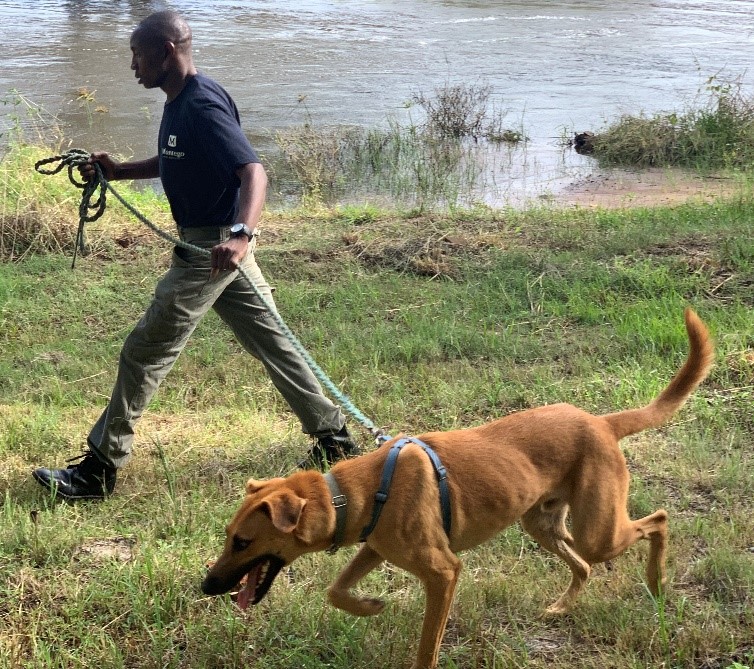 Our K9 Training Assistants
Alfie began his career learning to track at six months old, not only did he prove extremely good at tracking, but he absolutely loves his job, when he is not tracking and helping to teach the new members of the team, he is busy looking after his small humans. Alfie has proven crucial in the training and the development of his new companions.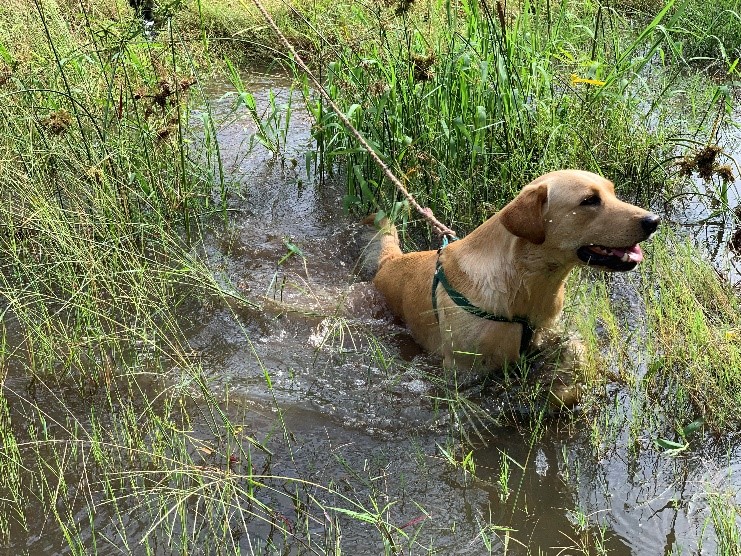 Gunner is now four years old and joined the family as a puppy from the local rescue centre, he is a Collie cross German Shepard and specialises in finding wildlife and assisting with finding injured animals, his favourite thing is riding "shotgun" around the bush with our Conservation & Security Manager, Brian Gurney.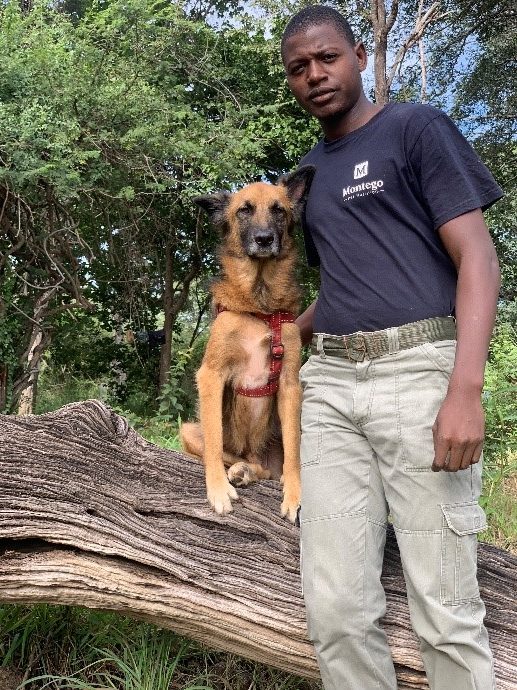 The Next Generation: Shadow
Shadow is a happy go lucky GSD pup who arrived with us from the Zimbabwe police. We are confident that she will grow to be a very effective member of the team.
Our Head Trainer: Beni
Beni is our head handler. He had never worked with dogs but had six years' experience working with horses and a love of animals. Beni quickly learned how to work and train the dogs whilst becoming their favourite human, gaining their trust and creating a loyal and strong working bond.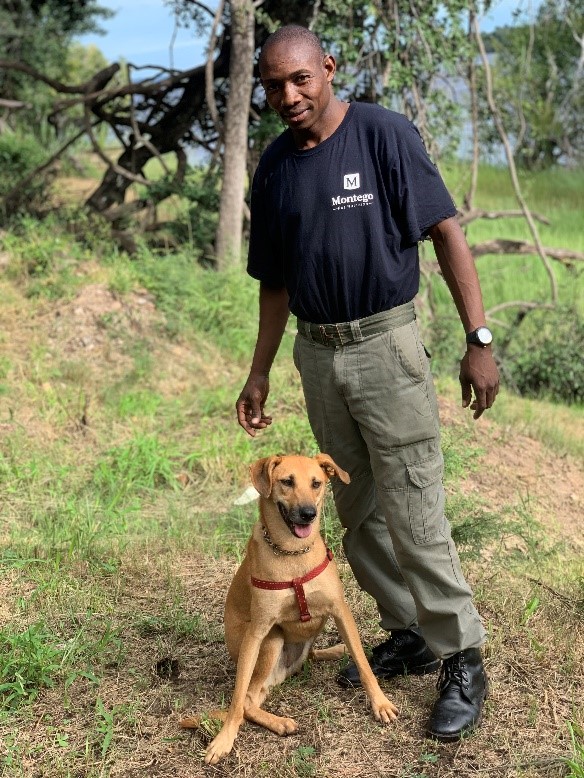 Our Sponsor: Montego
There is a substantial amount of food required for working dogs. We would like to thank Montego for their kind sponsorship of our canine heroes offering them the best nutrition possible to support them on their journey. As our sponsors, Montego support our project with top quality puppy food and Karoo working dog food. Giving hard working dogs the correct diet for them to be able to maintain optimum health, stamina and concentration is crucial for our top performing anti-poaching dogs. It is essential that dogs in this level of work are getting the maximum level of joint and soft tissue support in their diet to ensure the longevity of their career. To find out more about Montego and the diets our dogs are on the website links are:
https://www.montego.co.za/
https://www.montego.co.za/products/karoo-product/
Animal Welfare Non-profit Organisations
Our most recent team of dogs were rescued and given shelter by the Friend Animal Foundation in Harare. Their rescue centre brings food and shelter to thousands of rescue dogs every year and are the reason that these very special anti-poaching dogs are here with us. This charity has a no kill policy, and we hope that our dogs will prove and ensure a promising future for many other dogs within their facility.
Also, a mention to the SPCA who are the reason our experienced bush dog Gunner can support and help our new team along there very important journey not only to become tracking dogs in the protection of African wildlife but to fly the flag for all of the untapped potential currently sat in kennels today just waiting to be given a chance.
If you would like to find out more about the above charities or support them, please click on the links below:
Friend Animal Foundation Zimbabwe
SPCA Zimbabwe