Falls Fishing
Fishing on the Zambezi River, around Victoria Falls, is an experience of a lifetime. Pole and fly fishermen from all corners of the globe flock to these waters in order to experience some of the best freshwater fishing Africa has to offer.
Although more than 75 species of freshwater fish flourish in these warm, nutrient-rich waters, many anglers arrive with one thing in mind – landing a Tiger. Tigerfish are probably the world's most infamous freshwater fish, revered for their power and fierce set of teeth. Some of the Zambezi River's other noteworthy game fish include Yellow-belly Bream (Nembwe) and Vundu, a local species of catfish that grows up to 45 kg (100 lbs).
Furthermore, surrounded by the unimaginably serene Southern African wilderness, you will fish in awe of your beautiful surroundings. The Upper Zambezi is calm, allowing you to fully appreciate the local wildlife, often seen enjoying a drink on the river's edge.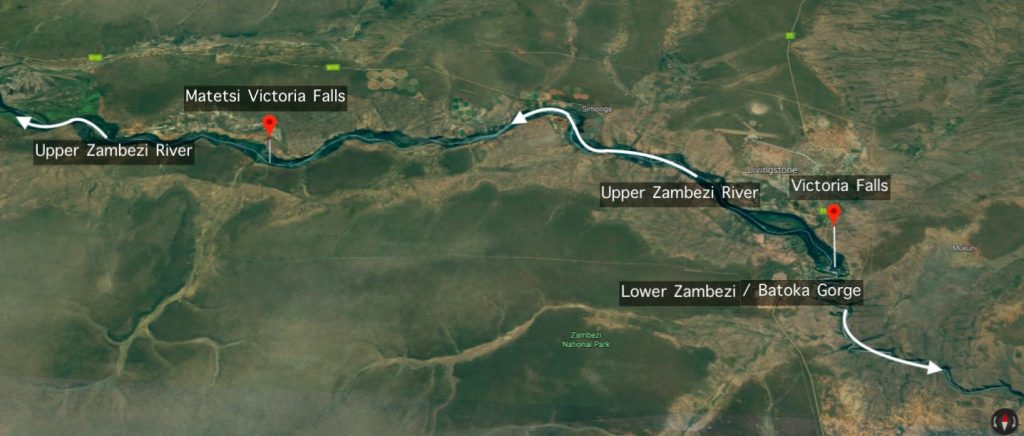 Fishing the Upper Zambezi river
The Upper Zambezi is the area of the river that lies above Victoria Falls. It is the river's most popular fishing destination, with the gently flowing river providing the perfect setting for a long day's fishing.
The main prize in these waters is a Tigerfish. They flourish in the Upper Zambezi River, making the area one of the world's premier Tigerfishing. Otherwise, if you plan on eating your catch, you will want to target Bream or Tilapia.
Professionally guided fishing tours down the Zambezi River are offered to guests both full and half-day trips. Alternatively, if you prefer to embark on your own adventure.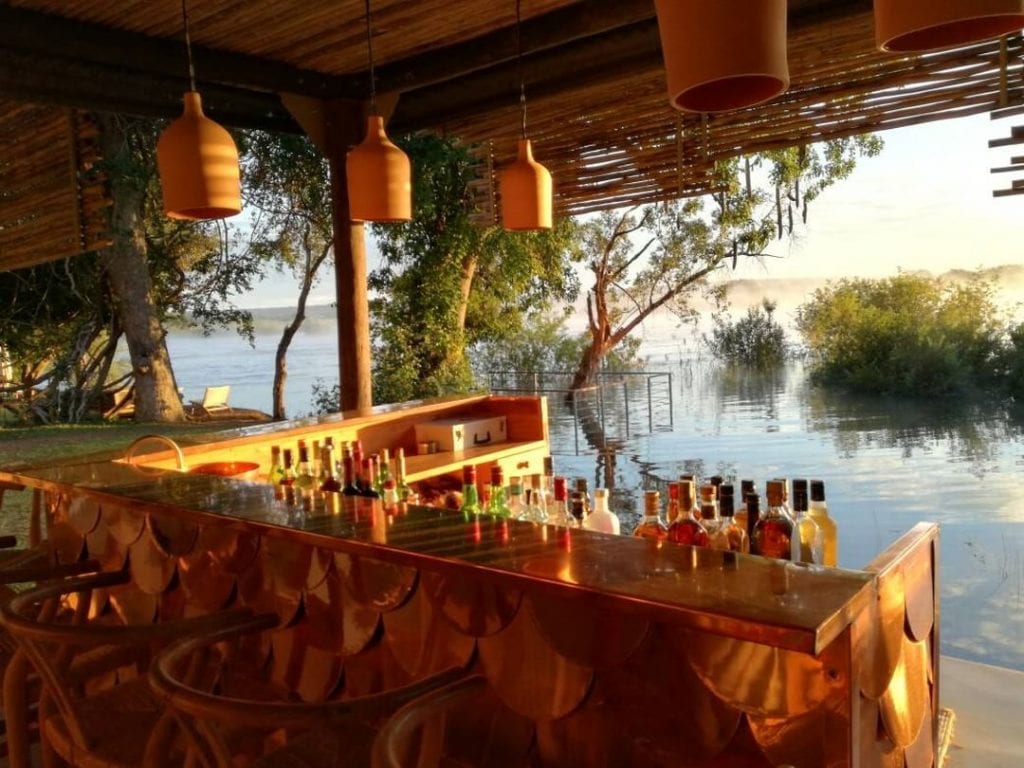 If you book a Zambezi fishing tour with a professional fishing guide, you will set off on a small boat, drifting peacefully between the Zambezi River's channels, mild rapids, and small pools. Close to the Falls, these tried and tested local hotspots have consistently proved themselves, regularly producing prized catches including Tigerfish and the Yellow-Belly Bream. Further upstream, you have the opportunity to explore some uncharted fishing territory.
The Upper Zambezi River is a premier all-year-round fishing destination, but as with any fishing spot, there is always a chance fish just don't bite. Although such a day may leave you disappointed, the Upper Zambezi River's exquisite natural beauty ensures a memorable experience no matter the catch.
While your bait remains intact, your line slack, the untouched African savannah flanking the Zambezi River teems with life. Big game sightings are part of Zimbabwean fishing experience, with elephant, hippo and crocodile sightings fairly common, as well as the chance of viewing lion and leopard.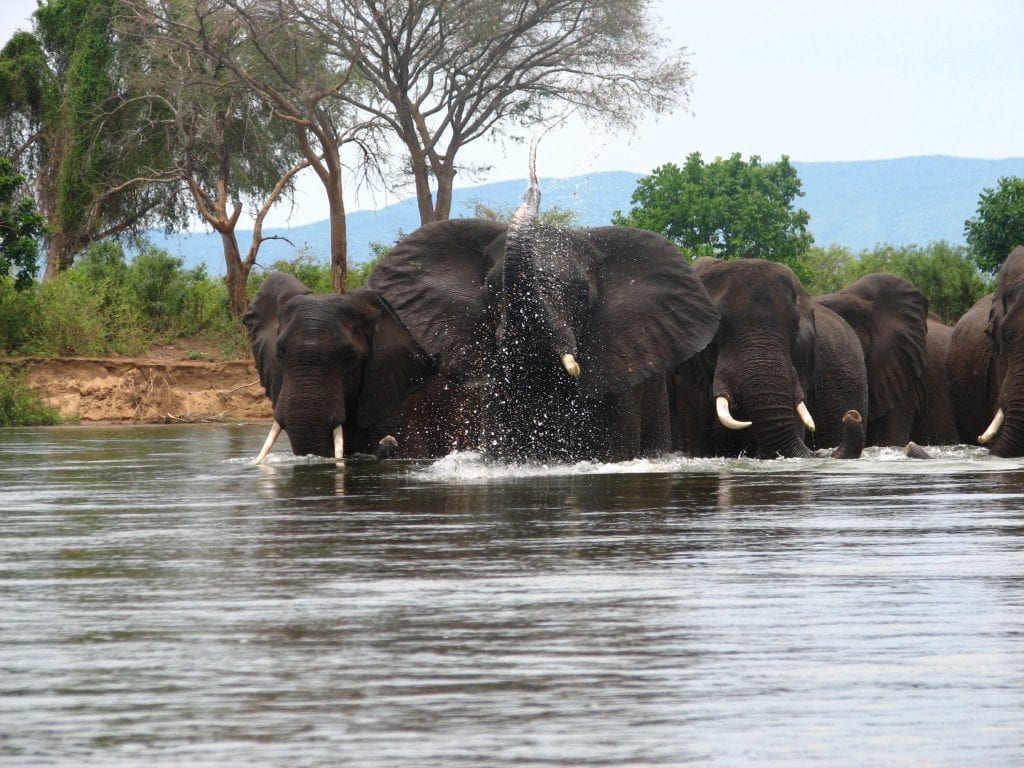 After a morning trawling for Tigerfish, as your stomach begins to grumble, your boat will dock on a nearby sandbank for lunch, as well as some bank fishing. Enjoy a tasty meal with an absolutely breathtaking African backdrop – clear blue skies above, river sand between your toes, and the untamed African wilderness stretching as far as the eye can see.
Matetsi Victoria Falls guests who catch Bream should save space for dinner. You will be welcomed home to a fish barbecue or "braai". Watch the sunset over the Zambezi, your well-earned Bream sizzling above the flames.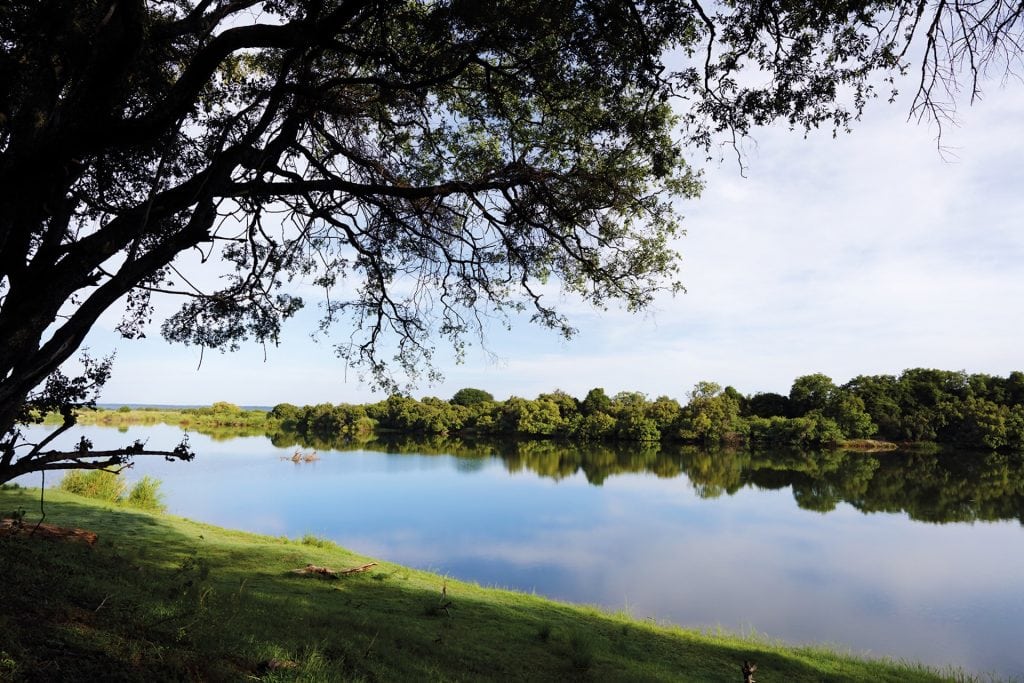 Batoka Gorge
Batoka Gorge is another fishing spot near Victoria Falls. As part of the more remote Lower Zambezi River, it starts at the bottom of Victoria Falls, stretching just over 110 km to Makwa in the Gwembe Valley. Rated as one of Africa's most scenic freshwater fishing destinations, it provides experienced anglers with the opportunity to immerse themselves in this awe-inspiring African wilderness.
The isolation and beauty do, however, come at a price. Batoka Gorge is not as accessible as the Upper Zambezi River and more suitable for experienced fishermen. You will not have the luxury of cruising down the river in a boat and will have to settle for the challenge of angling from the rocks.
Isolated from civilization, this fishing spot is utterly beautiful. The gorge's lush, green cliffs drop dramatically, revealing the Lower Zambezi River. Anglers stand casting from the shore, completely in awe of their magical surroundings.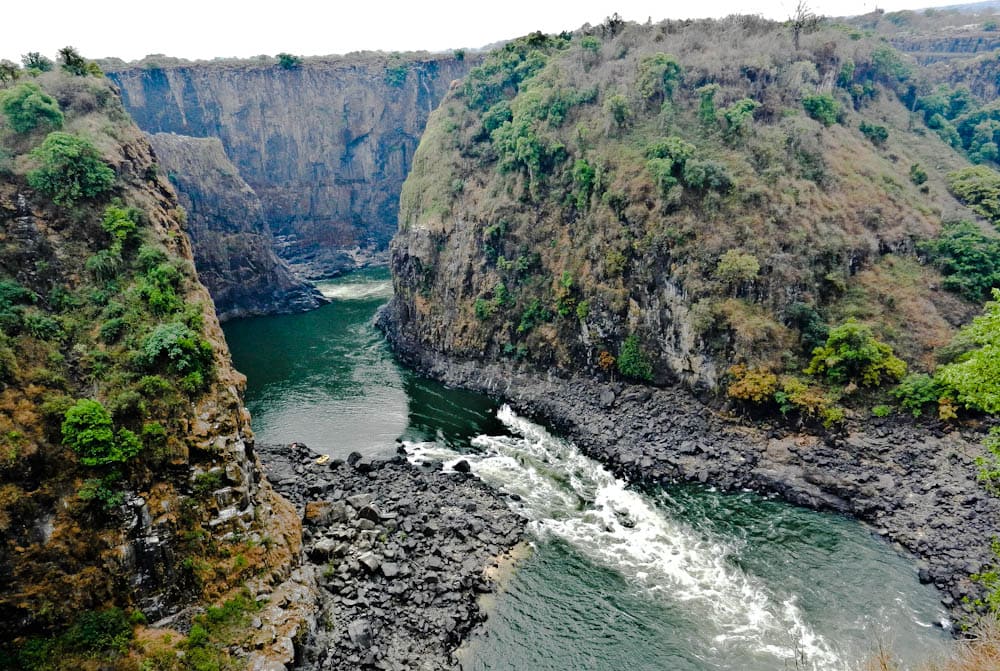 Furthermore, with a dense population of big game as well as 350 resident bird species, you have a fairly decent chance of spotting something spectacular while you wait for a bite. Following a fast-moving shadow, you could look up to see a black eagle soaring above, its immense 6 ft wingspan allowing the large raptor to effortlessly glide out of sight.
Much like the rest of The Zambezi River, Batoka Gorge's prize catch is the infamous Tigerfish. This lower stretch river is also home to the area's biggest fish species, the Vundu or Mazunda (Southern African Catfish). You will have to stick to the Upper Zambezi if you are looking to catch Bream, the river's tastiest fish.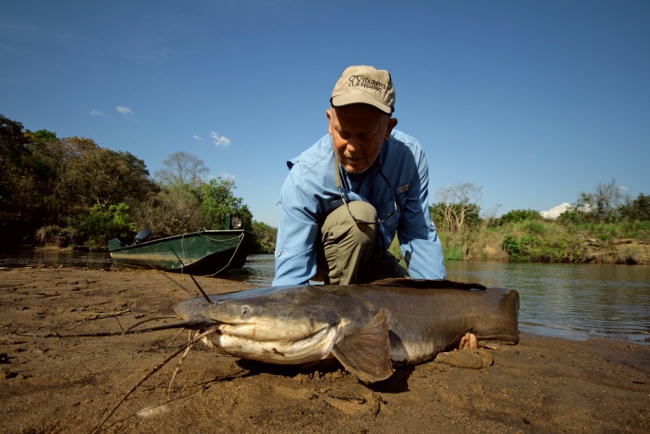 Tigerfish Sport Fishing
Among the international fishing community, Tigerfish are revered as one of the world's most prized freshwater fish. This ferocious species of game fish is infamous for its immense power, unbelievable stamina, and frightening jaws.
Growing up to 15 kg, Tigerfish are considered some of the most feisty and ferocious fighting freshwater predators around. This guarantees a fight you will never forget, while a photograph with your prized catch show two sets of teeth – the Tigerfish's immense chompers and your beaming white smile.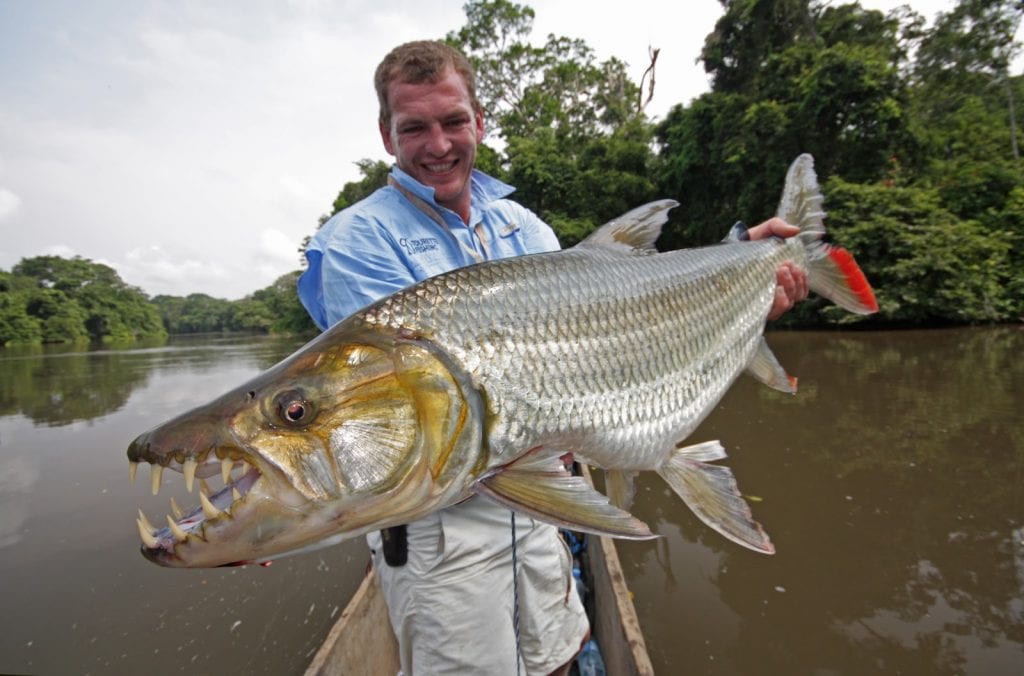 Around Victoria Falls, on the Zambezi River, Tigerfish are caught throughout the year, with similar success across all four seasons. This is down to strict and effective conservation laws ensuring that all tigerfish are released. Our local guided referred to this as CPR (Catch, Photograph, Release) fishing.
The CPR rules have been implemented because, over the past decade, habitat changes have put pressure on the species. Although not yet endangered, local unregulated gillet fisheries are changing many Southern African rivers. As apex predators, Tigerfish are especially vulnerable to environmental changes.
Your fishing tactics will need to be adapted depending on water clarity. Whilst the water is clear, lures and flies are exceptionally effective, with their bright colours enticing a bite. Such conditions are common between May and December, with peak clear-water season falling between the months of June and October.
In murkier water, flies and lures are ineffective because fish struggle to spot them. During this time, Tigerfish rely on their sense of smell, making bait fishing the more successful tactic. Murky water is common between January and April, when the Zambezi River flows at full force.

The Vundu, or Mazunda fish, is a species of catfish found in Southern Africa. It is Southern Africa's largest true freshwater fish, weighing as much as 55 kg (121 lb), and reaching up to 1.5 m (5ft) in length.
It is a hostile predator that hunts almost anything, with reports of Vundu consuming various birds, juvenile crocodile, snails, as well as carcasses floating down the river. Ultimately, a Vundu will eat almost anything floating downstream, providing a valuable cleaning service.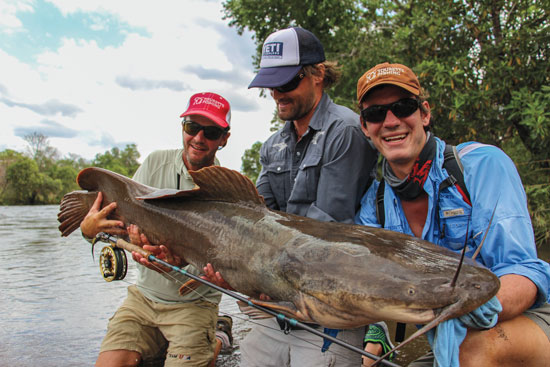 A large Vundu is an impressively powerful fish, and it shows when you have one on the line – a long, arduous fight is no-doubt required to land such a beast. Although the Vundu is not a fish you want to eat, the large beast does pose well for photographs.
The species is not found in the Upper Zambezi River, but can be caught below Victoria Falls at Batoka Gorge. They prefer the deeper water, are usually be found in a river's mainstream, and become increasingly active at night. Bait-wise, you can succeed with almost anything, although oily and pungent options such as canned meat bring the best results.
Please note that Vundu, just like Tigerfish, must be caught on a CPR (Catch, Photograph, Release) basis. Both these species are protected and must always be released.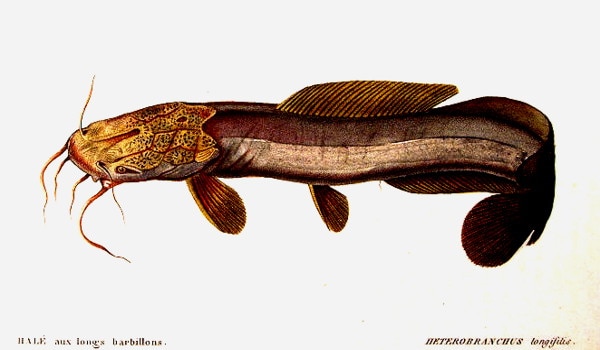 Bream / Talapia Fishing
Bream fishing on the Zambezi River is also very popular. Half-day fishing on the Zambezi starts a dawn. The tranquility of that time of day can't be expressed: the stillness of the water; the gentle murmur of the birds; and the sky's illumination as the sun rises makes for a perfect start to a day of fishing.
As you move out in your fishing boat to find the perfect spot to moor and cast from, the sun starts to rise. Fish to structure they say, which means tie up close to trees stumps or rocks – but try not to get your fishing-line tangled up in them.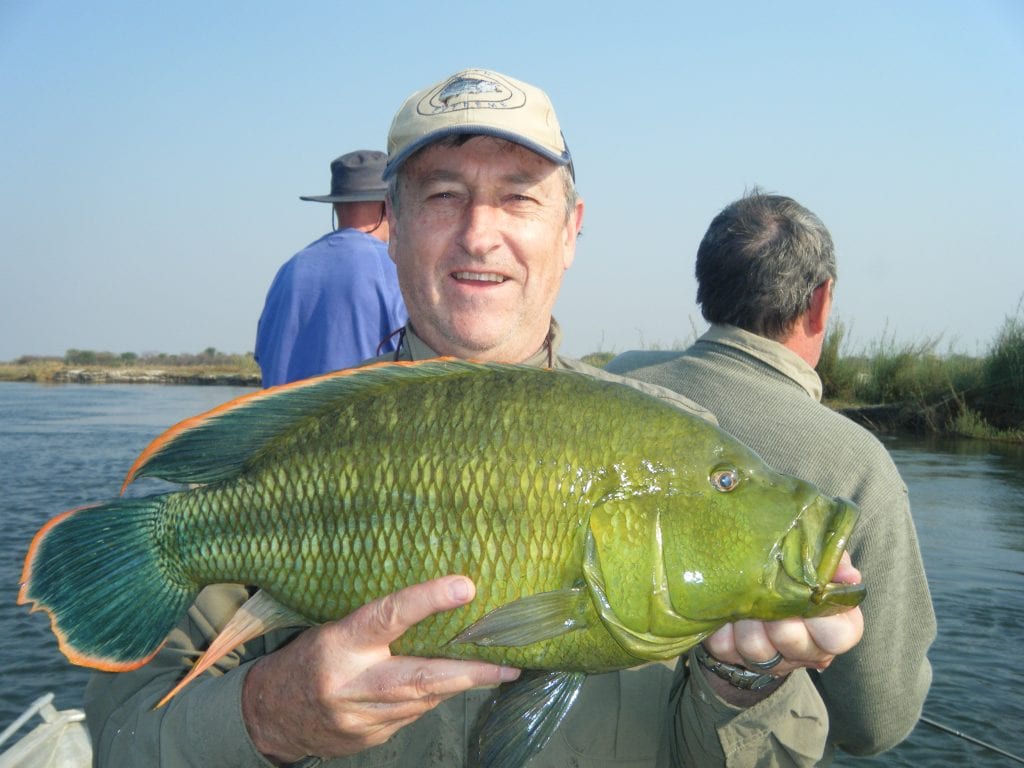 Fishermen are always optimists. When you start catching small fish, they'll remind you that where there are small fish there are big fish, and when you only catch weed, they refer to it as the salad for the fish. You may catch something sizable or you may not. That's why they call it fishing not catching.
Either way, bream fishing can be rather sedate, and can be complemented by birdwatching and game viewing. Though at times, bream catching can be rather exhilarating as they can grow up to 4 kg. And should you land a decent sized fish, bream make for great eating.
Guests at Matetsi Victoria Falls are often welcomed home with a fish barbecue or "braai" when they catch. End the day as it began, overlooking the Zambezi as the sun meets the horizon.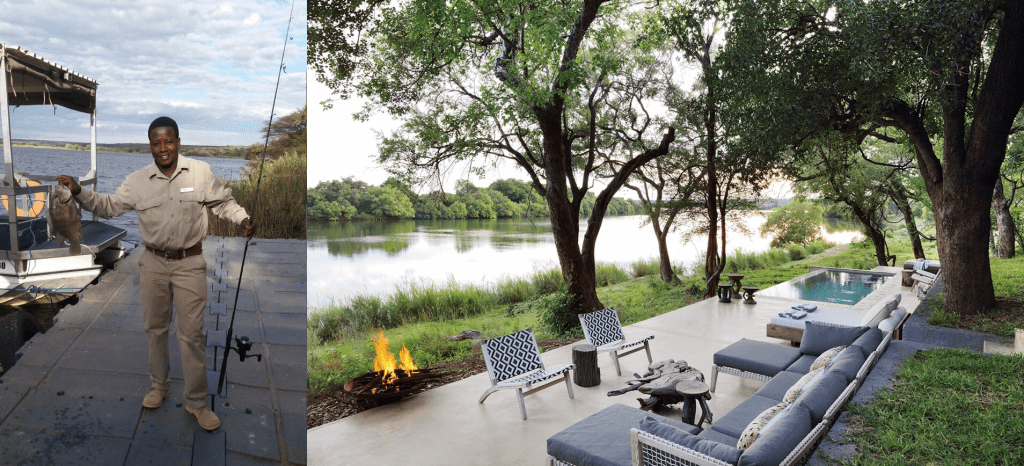 In Summary
The Zambezi River is a premium African freshwater fishing destination. Although the area is most known for an abundance of Tigerfish, one of the world's most prized freshwater fish, it is more than a Tigerfish hotspot.
A river teeming with a variety of fish species means that you can walk away with more than Tigerfish. Yellow-belly Bream (Nembwe) and the mighty Vundu (Southern African Catfish) are among the other prized species found in these rivers.
Furthermore, the river is flanked by the most magnificent scenery, densely populated by big game and birdlife. The Upper Zambezi River is surrounded by a serene African savannah and dramatically beautiful scenery. If you are a keen fisherman, this is an experience of a lifetime.